Have you visited our store? Click here.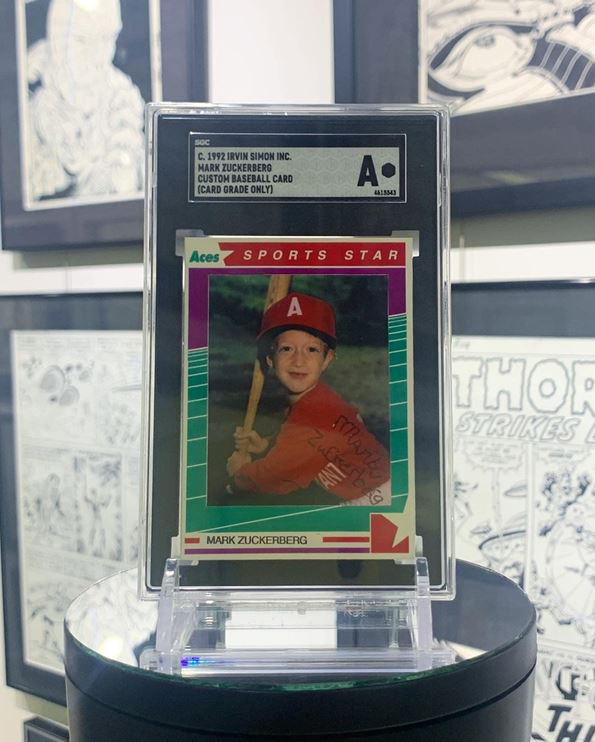 Exceedingly rare and likely only example known with a signature, this Mark Zuckerberg Little League baseball card from 1992 is poised to enter the auction block.
After this custom card of the Facebook founder was made in 1992, Mark gave it to his favorite camp counselor, Allie Tarantino. When received, Tarantino playfully asked if Mark would sign it, which he did to make it that much more special. 30 years later, the card surfaces with tons of fanfare.((Mark Zuckerberg Signed & Authenticated Little League Baseball Card Causes a Media Frenzy. www.comicconnect.com))
The card will be auctioned through ComicConnect and will include authentication documentation from multiple sources including, SGC, Mark Zuckerberg's signature, and confirmation of his attendance at Camp Elmwood. Additionally, an NFT of the card will be made.
Mark was a talented hitter that season. He hit 23 of 25 at-bats, which is an impressive .920 batting average.((Mark Zuckerberg-signed Little League baseball card will go up for auction. www.foxbusiness.com))
The card will be auctioned through ComicConnect. To access their website, click here.
Auction Results:
Physical Card
Sold: September 28, 2022
# of Bids: 57
Final Price: $105,000
NFT
Sold: September 28, 2022
# of Bids: 11
Final Price: 11 ETH