Have you visited our store? Click here.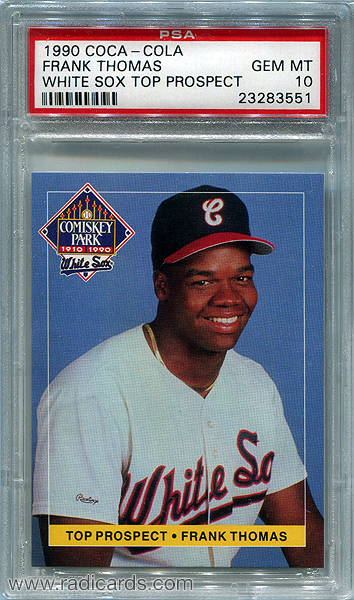 For this one, we travel back to the summer of 2003. It was beautifully hot and typically dry in sunny Albuquerque NM. I lived in the dorms at UNM during this time as I had just completed my second year of college. However, that summer, I spent a lot of time with my mom at her house. While I was there, I decided to go through my things and it was at that time that I re-discovered baseball cards. I had been out of the hobby since late 1998. I left because I was growing in other areas and my focus was directed toward other things for the next 5 years.
In 2003, I went through all of my baseball cards and remembered that I once ardently collected both Ken Griffey Jr. and Frank Thomas. Well, I knew that from that time forward I wanted to start collecting again but also knew that I was going to have to choose just one guy to collect. I didn't think it would be a good use of my funds or my time to multiply my efforts by two in order to collect two guys. So I chose Frank Thomas. I did so for a couple different reasons: I had more cards of him over Griffey, and I could afford him more so than Griffey. I love both fellas equally, however. Anyway, upon making this decision, I revisited all of the card shops that existed at the time and sought out card shows in an effort to buy everyone out of their Frank Thomas collections. I did this, for the most part, successfully.
Sometime in mid-summer 2003, I attended a card show at a mall in Santa Fe, NM. It was at this show that I first discovered the 1990 White Sox Coke Frank Thomas
card. I'd never seen this card, or this set before but then again, I hadn't been in the hobby in five years and I was basically an adolescent back in 1998. Also, because eBay wasn't yet in my arsenal, my exposure to such rarities was limited. When I asked how much for the card, the seller wanted $50. I had some thinking to do. I knew I wanted the card but I wasn't sure I was able to pull the trigger right then. So I went home a slept on it. I made a second trip back the next day and bought the card. The one I bought is in raw condition. The one you see depicted here is a gem mint copy I bought years later. Every time I see the 1990 White Sox Coke Frank Thomas
, it reminds me of these rich memories of summer 2003.
To see what's currently on eBay from 1990 White Sox Coke, click here.