Have you visited our store? Click here.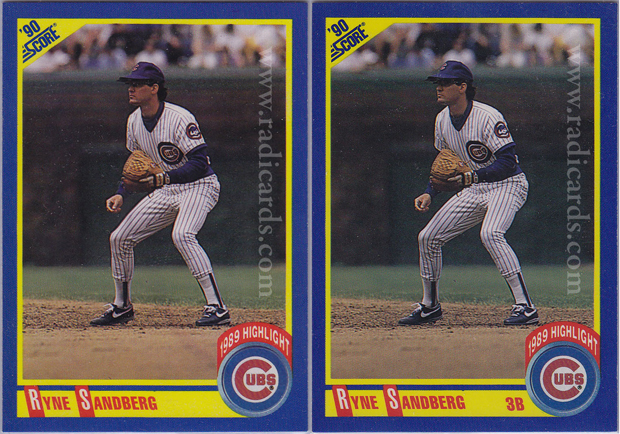 It's safe to say I'm on an ERR kick circa 20+ years back. The Ryne Sandberg 1990 Score #561A
is a classic. I think everyone should at least be aware of this card because it's very easy to miss and worth over 100x more than the COR version (left). This error is actually very simple. The only difference is that it depicts the 3B position when it shouldn't given that it's a Highlight card. This error in its day was very popular, likely more so in the greater Chicago area but still very popular in the hobby as a whole. This card always escaped me as a young collector. Pre-eBay, this was actually a relatively difficult card to locate. I can remember going to shows and asking around about various cards. Most of which nobody had or had heard of. This was one of the former. When I discovered its existence back in 1991, I didn't know what to look for because the information regarding the card was so vague. I would look in the price guides and see Ryne's name with an unclear ERR signifier after it. Ok great, that helps. So what on earth am I to look for? I just added this guy to my childhood checklist and kept searching and asking around. Anyways, I picked this guy up last year, 20 years after the fact. No matter, I can finally check it off the list.
To see the current eBay auctions for the 1990 Score Ryne Sandberg, click here.