Have you visited our store? Click here.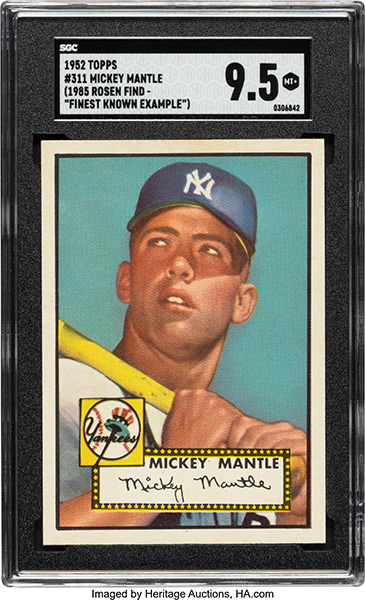 This 1952 Topps Mickey Mantle is the finest known specimen of its kind and was unearthed by Al Rosen a.k.a., "Mr. Mint," in 1985. The story is famous. Al Rosen was contacted by a man who claimed he had several mint examples of the 1952 Topps Mickey Mantle. Rosen had his doubts but drove out to see the collection anyway. The man's father was a delivery driver for the obsolete stock of 1952 Topps, which was kept in his basement for 30 years.
In the basement with the stash of 1952 Topps was a stack of 75 mint examples of the Mickey Mantle. This find is so significant that it quickly became known as, "The Rosen Find." Of the 75 examples, this is the finest of all. Once purchased, Rosen sold it instantly for $1000 but bought it back in 1991 for $40k only to sell it again and it later changed hands again for a then record sum of $50k.
The buyer has been in possession of this card ever since. Now here we are, 31 years later, and this card appears on the auction block to make history yet again. On August 27, 2022, the auction closed with a price that marks the highest ever paid for any piece of sports memorabilia to date.
Sold: August 27, 2022
Final Price: $12,600,000
This may be the finest known example slabbed by SGC but there's at least one other that looks even better than this one. Renowned collector, Marshall Fogel, owns a seemingly perfect PSA 10 example of this card.
To see the current eBay auctions for the 1952 Topps Mickey Mantle, click here.