Have you visited our store? Click here.
Just prior to the final release of the famous 1989 set, Upper Deck released a few promo, or draft designs if you will.
Keep in mind that the only visual differences between the different promo Types is hologram design and placement on the back of the card. Due to the scarcity of the other two example, here's the base design to compare with the DeWayne Buice 1989 Upper Deck Promo #1a.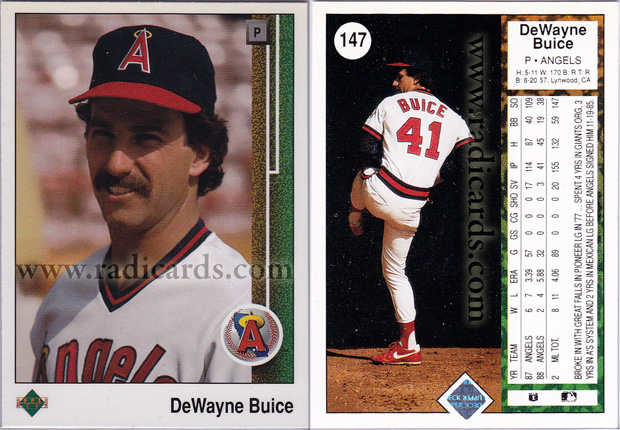 As you can tell from the final design, Upper Deck went with the classic diamond hologram placement located at the bottom of the back of the card. Card #147 is the final product that's found in packs and sets of 1989 Upper Deck. Simple, to the point.
Below is a list of notable attributes that separates the promo from the final product.
On back: elongated hologram
On back: card #1, reference to the famous '89 UD Griffey RC
On back: no gradient border surrounding the stats box
On back: the stats box is depicted as one part instead of two
On back: the top left corner rounds to the number
On back: no license by MLB or MLBPA
On front: the name is in all caps less the low e
On front: the top left corner depicts the Upper Deck logo
These are just a few things to look for when you come across a DeWayne Buice or a Wally Joyner from 1989 Upper Deck.
A side-by-side comparison has me in favor of the final release when considering overall aesthetic appeal as it presents a more polished feel. However, from a scarcity standpoint, the promo wins hands down. But I guess, that last statement kinda goes without saying.
Card courtesy of Tom Elliott of Past Times Collectibles of Fullerton, CA.
To view the current eBay auctions for 1989 Upper Deck Promos, click here.