Have you visited our store? Click here.
My first dabble into collecting baseball cards was with 1991 Topps.
However, I recall busting wax of 1992 Topps a lot more for several reasons. First, of course, was local talent Brien Taylor. Second, and probably the most important reason, was the Topps Gold
parallel.
Collectors were given a chance to win a set of 10 Topps Gold cards in each pack that was purchased by way of a game piece that was inserted in every pack. The premise was simple: collect 10 home runs or scratch-off "Instant Winner," and well, you won a pack of 10 Topps Gold cards. Once redeemed, collectors would receive their pack, and the word "winner" was stamped on them. The cards were random from the massive 792 card, single-series set.
This was the first "rainbow" I attempted to collect of Brien Taylor; his base card, Topps Gold
parallel, and Topps Gold Winners
parallel (bear with me, I don't have a working scanner and my phone doesn't work well in low-light):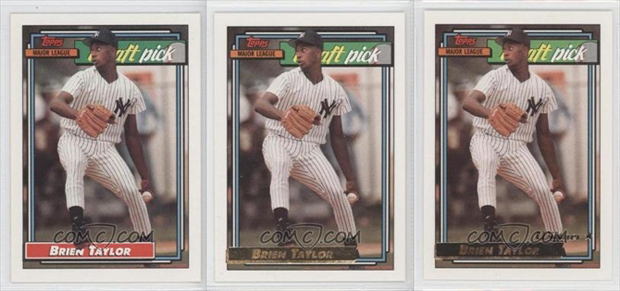 Of course, a true rainbow wouldn't be complete without his Topps Gold Autograph, which was limited to just 12,000 copies. I can't imagine signing 12,000 cards, let alone the 5,000 he signed for the Classic set that same year. Regardless, the autograph card is a thing of beauty, and it's not a sticker. Don't get me started on that topic…
To conclude, I started collecting during an exciting decade, which so far, hasn't been matched in terms of innovation and new technologies for the card collecting world.
To see what's currently on eBay from 1992 Topps Gold, click here.