Have you visited our store? Click here.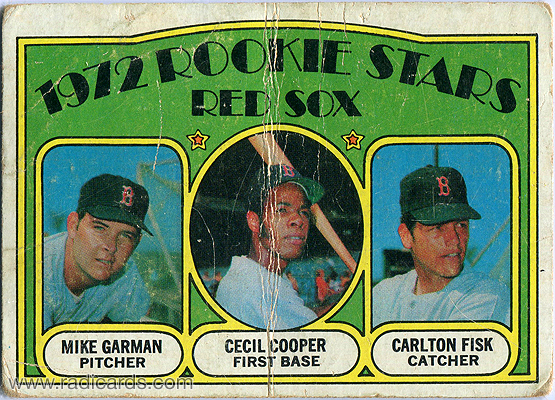 Here's a much appreciated 1972 Topps Carlton Fisk rookie card. I acquired this for $1 at the 2012 National Sports Collectors Convention. Even in this bad of shape, I'll take it for a $1 all day long. What this card has going for it is the centering; it's incredibly well centered. It would still be several years after 1972 before quality control measures would become more strict. The difficulty in finding centered examples of pretty much anything during the 1970s and back has been documented by many collectors.
Like many sports cards from a similar condition category, this one tells a story. This is the story of a centerfold… no, not that kind of centerfold. Think more along the lines of that which would allow a baseball card to possibly fit into a wallet, or other compartment of smaller dimensions. Rare folds like this always lead me to question why someone would be prompted to even consider folding the card in the first place. If its storage location isn't big enough to house the card in a comfortable way, why not just choose a storage method that does?
Had this card not been folded, I'd feel at least partially confident in assuming that many of its other condition flaws wouldn't have been imposed. I say this because the folding of a card would lend itself to the possibility of being exposed to a series of additional dangerous situations that would further damage the condition integrity and thus, appearance of the card. The rounded corners, nicks, and dings are all possible side effects of the remaining living conditions of a card that's been folded in half.
Whatever the case, I will never know why this card was folded in half. I can still appreciate it even with the gnarled condition flaws. It's found a permanent home in my collection and it fits in nicely with all of my other, much better condition copies of the 1972 Topps Carlton Fisk rookie card.
To see the current eBay auctions for the 1972 Topps Carlton Fisk, click here.