Have you visited our store? Click here.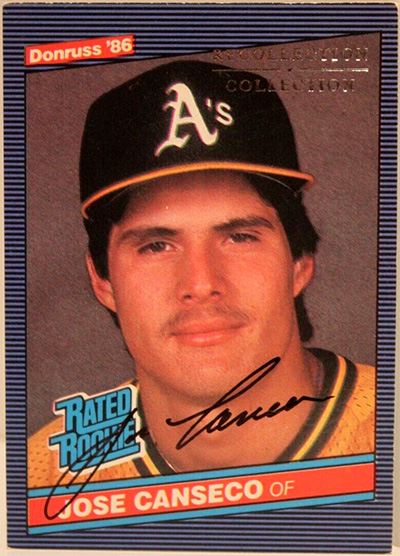 If you were a young collector in the late 1980s, you were probably like many other collectors your age and had the 1986 Donruss Jose Canseco on your Most Wanted list. At $80-100, this card always seemed so far out of reach for most of us. As we got older, we could eventually afford to buy this card and many of us have.
But even as we age, the 1986 Donruss Jose Canseco continues to be a snapshot to a simpler time in collecting, a time when raw base cards were king and building sets was still a thing. It was a time when we double-carded our binder pages, and mowed lawns to save up for a few packs of cards and chomped bubble gum while we opened them. Reminiscing is romantic and in a way so are our memories of wishing to own the 1986 Donruss Jose Canseco RC.
The colors of his jersey coupled with those of the card and RR logo along with the image of Canseco with that slight but subtle mustache are just perfect in every way. There isn't a better Rated Rookie card. It's as if time stands still for just one moment as we're taken right back to wishing mom would bring this card home and put it in our stocking to be found on Christmas day. If only we could be so lucky.
---
Years later, Donruss caught on to the popularity of some of the cards in its back catalog and to capitalize on it, has since inserted buyback signed examples into packs. In 2003, the hobby favorite 1986 Donruss Jose Canseco RC made its way into the mix but Donruss only bought back one example of this card making it a 1/1. This card is considered by some Canseco loyalists to be the best version of the best Jose Canseco card ever made.
It surfaced in October of 2022 and performed well above expectations in the current market. What started as an auction style listing at $9.99 concluded enthusiastically with a price jump from $275.32 to $6,600 in the final four seconds of the auction clock. Here are the results:
Sold: October 30, 2022
# of Bids: 20
Final Price: $6,600
For those of us who just watched this auction or completely missed it, I thought having an image of this card here would make for a nice reference since the likelihood of seeing it again is very low.
To see the current eBay auctions for the 1986 Donruss Jose Canseco, click here.