Have you visited our store? Click here.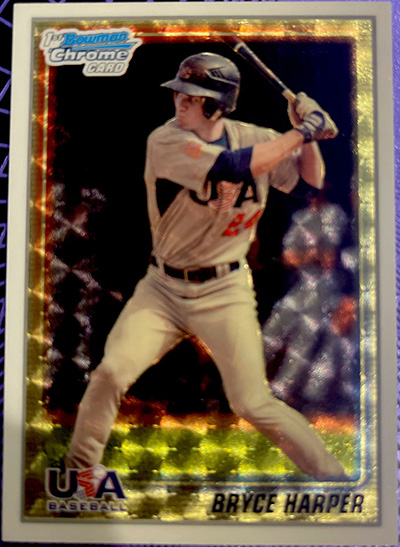 Okay, so the BIN price was actually $999,999.99 but we can round up. You'd think for a card of this caliber the seller would take better pics. I mean, really. They aren't terrible but they're also not great. If I were to grade these pics, I'd give them a C+, which is passable. However, I think the Bryce Harper 2010 Bowman Chrome Superfractor deserves a little more flare. If one has the kind of money required to own this card (the seller bought it in 2010 for $12,500), they should also have the money required to buy a scanner or the patience to take better pics. Okay, rant over. In any case, I'm glad the seller took care of the card all these years.
The Bryce Harper 2010 Bowman Chrome 18U USA Baseball Superfractor didn't get the same amount of exposure back in 2010. When this card was pulled and sold, it happened almost all behind the scenes. At the time, most collector's attention was on Stephen Strasburg. However, after Strasburg got injured in August of 2010, the focus quickly moved to Bryce Harper. 11 years in and Bryce Harper is having a Hall of Fame career so this card is sure to be worth more than what the seller paid for the card. Either way, it's nice to see this card surface again after all these years.
To view the current eBay auctions for Bryce Harper baseball cards, click here.