Have you visited our store? Click here.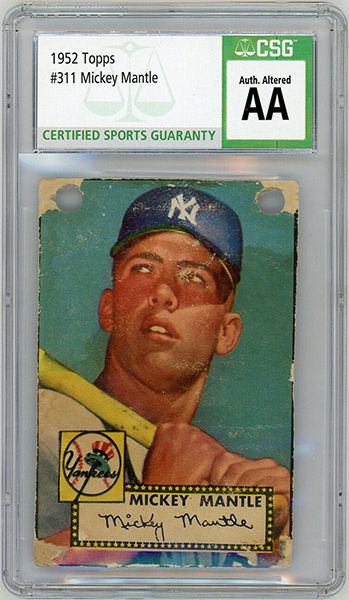 Even without the borders, this card looks pretty good in the CSG slab. It also comes with a couple punch holes in the event I wanna crack it out and hang it on my pin board, which we all know is the perfect place to store high dollar trading cards like this one.
Alright hey, listen; let's get serious.
Gone are the days when complete examples of the 1952 Topps Mickey Mantle could be had for less than $10k. If you have a couple grand more, you can get most of the card. Character counts.
Featured is an example of the 1952 Topps Mickey Mantle that sold in late February 2022. Even with its colossal amount of imperfections, it still performed exceedingly well at auction.
Sold: February 27, 2022
# of Bids: 74
Final Price: $11,877.77
I'm old enough to remember when PSA 1s of this card routinely sold for around $5k give or take.
To see the current eBay auctions for the 1952 Topps Mickey Mantle, click here.