Have you visited our store? Click here.
All throughout the 1990s, jumbo cards were considered rare and often only issued in format exclusives such as retail. These days, Topps produces 5x7s of almost everything it makes at the standard-sized level, which has produced a somewhat saturated market. These jumbos usually come out several months after the release of the standard-sized product and they're often made available through the Topps website. Topps usually makes a few different parallels of these jumbo cards with the /49 being the base and all others after it containing lower print runs i.e., /10, etc. Much of these cards end up on eBay going unsold over repeated listings only to bring small figures when they finally do sell. Here's an example: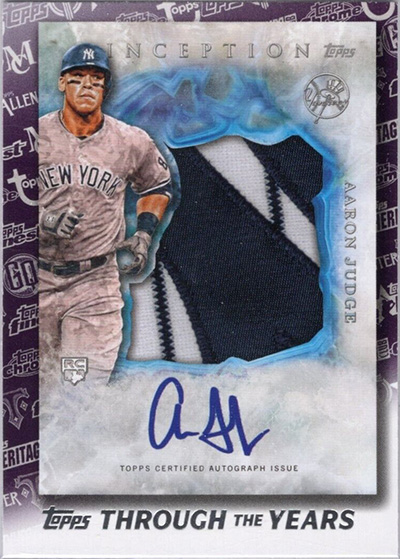 Standard-Sized
Sale Range: 9/21-27/2022
# of Sales: 36
Average Sale Price: $65.26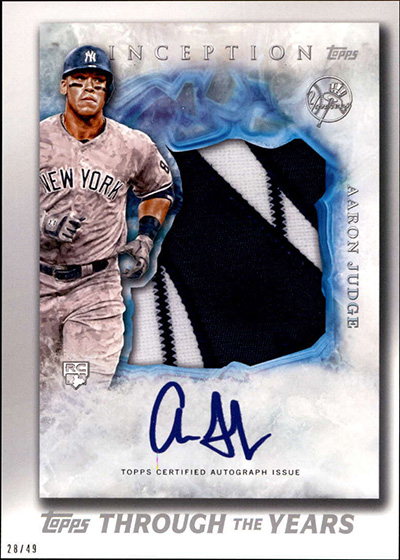 Jumbo
Sale Range: 7-9/2022
# of Sales: 5
Average Sale Price: $12.30
The Aaron Judge 2021 Topps Through the Years standard-sized card sells, on average, for 430+% more than its 5×7 counterpart. What's interesting about this is that the standard-sized card is from a regular Topps insert set and as such has a significantly higher print run than 49 and still, collectors would rather have that one over the much rarer jumbo card. This information supports the notion that modern jumbo cards aren't as desirable or collectible as modern standard-sized cards.
It's important here to note that the 2021 Topps Through the Years set commemorates key Topps rookie cards. All depictions are reprints and as such all images containing autographs are facsimiles.
Conclusion:
Jumbo cards are hard to store conveniently and the market is saturated with them. Also, not everyone wants to re-buy and store big versions of every Topps card they already own. No matter how they're stored, jumbo cards can take up a lot of space. It's likely for these reasons that many collectors pass on them. Jumbo cards just don't carry the same marquee value as their standard-sized counterparts.
To see what's currently on eBay from 2021 Topps Through the Years, click here.