Have you visited our store? Click here.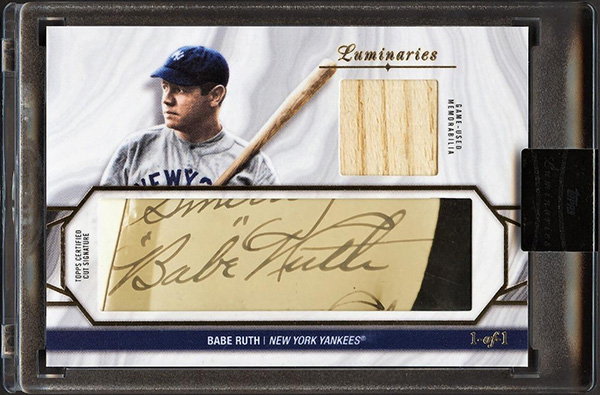 While it's been established that Babe Ruth used to add quotes around "Babe" up until the late 1920s, from years forward some were penned by others i.e., secretaries, clubhouse attendants, nurses, etc., which are known as Secretarial Signatures. Toward the end of his life as he battled health issues until his death in 1948, Ruth's nurse signed most through-the-mail (TTM) autograph requests.1
In a QuickOpinion™ request from PSA on 1/17/2023, the authenticity of the autograph on the depicted card achieved the status, Likely Not Genuine. Given the difference in signature style from when Ruth added the quotes to when others did it, the autograph on this cut is believed to be a Secretarial Signature. Even so, this is still an exceptional card. It sold at auction in late 2022; here are the results:
Sold: December 5, 2022
# of Bids: 28
Final Price: $17,600
To see what's currently on eBay from 2022 Topps Luminaries, click here.
References:
Babe Ruth Autographfacts. www.psacard.com ↩︎