Have you visited our store? Click here.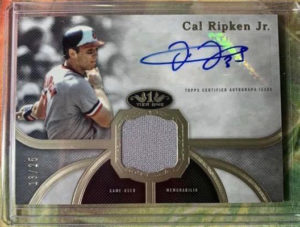 Topps put a sticker signed by Frank Thomas on this 2020 Topps Tier One Autographs Cal Ripken Jr. card. Stuff like this has happened before but Tier One is considered a middle high end product so you'd think the quality control stuff would be worked out at this price point. Alas, even at that level, it's all still run by humans and we're imperfect.
To see what's currently on eBay from 2020 Topps Tier One, click here.