Have you visited our store? Click here.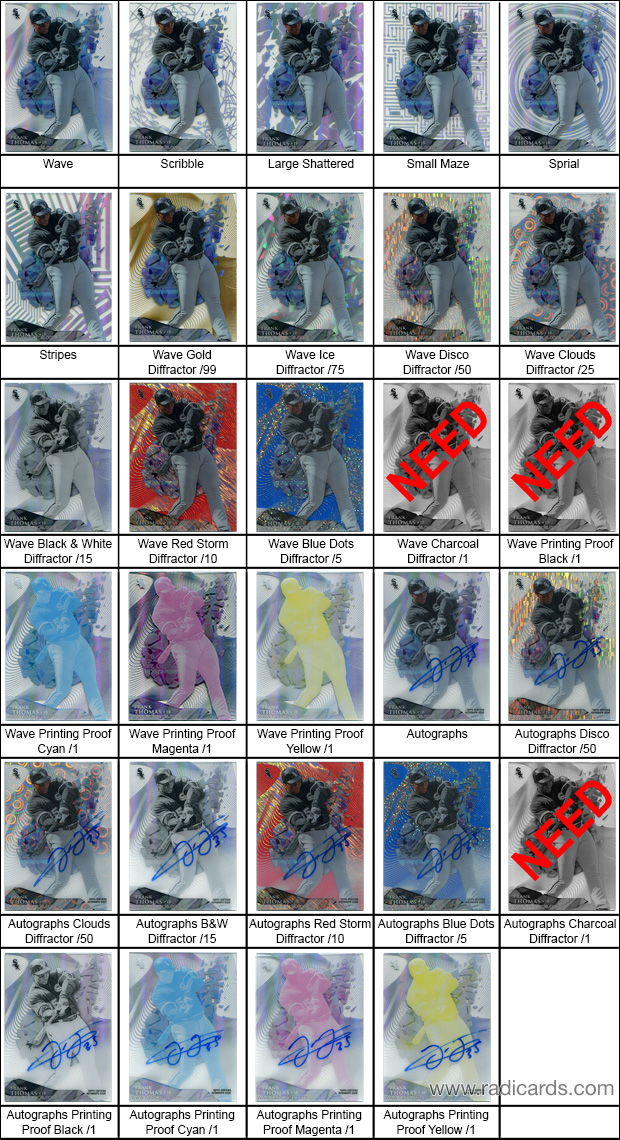 After a 14 year hiatus, Topps revisits the Tek line. 2014 Topps High Tek brings back the same multi-pattern concept but this time with the addition of autographs, proofs, and buybacks. Parallel runs exist for any one player in the set with two separate design batches, one for AL players and another for NL players. When this product came out, it was opened extensively by the breaker community. The format has changed but the excitement remains the same. Each box yields 1 pack with 8 cards and 1 autograph.
I pursued the Frank Thomas 29-parallel rainbow for this run quite aggressively when it first came out. New additions to my run are seldom and hard to find since the remaining cards are 1/1s. Building runs this extensive takes time, which is why I'm writing about this now and not in 2014 when this product was released. What's seen here is a visual progress list. While I'm still in search of the remaining needed cards, given their scarcity, I'm happy with my progress. However, if you have leads on any of the missing pieces, I'd love to hear from you.
To see what's currently on eBay from 2014 Topps High Tek, click here.
---
Set Information:
| Important Date(s) | |
| --- | --- |
| December 3, 2014 | Release Date |
2014 Topps High Tek
2014 Topps High Tek is a 100-card set that came in 8-card packs and 1-pack boxes. The base set comes in a variety of parallels depending on the player. Also included are a couple insert sets and signed examples of buybacks from previous Tek sets.
| Set | Total Cards | Print Run(s) | Odds |
| --- | --- | --- | --- |
| Large Maze | 47 | – | – |
| Large Shattered | 53 | – | – |
| Laser | 47 | – | – |
| Net | 47 | – | – |
| Scribble | 53 | – | – |
| Small Maze | 53 | – | – |
| Small Shattered | 47 | – | – |
| Spiral | 100 | – | – |
| Spiral Bricks | 47 | – | – |
| Stripes | 100 | – | – |
| Wave | 53 | – | – |
| Zig Zag | 47 | – | – |
| Spiral Bricks Gold Diffractor | 47 | 99 | 1:3 |
| Spiral Bricks Ice Diffractor | 47 | 75 | 1:4 |
| Spiral Bricks Disco Diffractor | 47 | 50 | 1:5 |
| Spiral Bricks Clouds Diffractor | 47 | 25 | 1:10 |
| Spiral Bricks Black & White Diffractor | 47 | 15 | 1:16 |
| Spiral Bricks Red Storm Diffractor | 47 | 10 | 1:24 |
| Spiral Bricks Blue Dots Diffractor | 47 | 5 | 1:48 |
| Spiral Bricks Charcoal Diffractor | 47 | 1 | 1:237 |
| Spiral Bricks Printing Proofs Black | 47 | 1 | 1:60 |
| Spiral Bricks Printing Proofs Cyan | 47 | 1 | 1:60 |
| Spiral Bricks Printing Proofs Magenta | 47 | 1 | 1:60 |
| Spiral Bricks Printing Proofs Yellow | 47 | 1 | 1:60 |
| Wave Gold Diffractor | 53 | 99 | 1:3 |
| Wave Ice Diffractor | 53 | 75 | 1:4 |
| Wave Disco Diffractor | 53 | 50 | 1:5 |
| Wave Clouds Diffractor | 53 | 25 | 1:10 |
| Wave Black & White Diffractor | 53 | 15 | 1:16 |
| Wave Red Storm Diffractor | 53 | 10 | 1:24 |
| Wave Blue Dots Diffractor | 53 | 5 | 1:48 |
| Wave Charcoal Diffractor | 53 | 1 | 1:237 |
| Wave Printing Proof Black | 53 | 1 | 1:60 |
| Wave Printing Proof Cyan | 53 | 1 | 1:60 |
| Wave Printing Proof Magenta | 53 | 1 | 1:60 |
| Wave Printing Proof Yellow | 53 | 1 | 1:60 |
| Autographs | 87 | – | 1:1 |
| Autographs Disco Diffractor | 87 | 50 | 1:8 |
| Autographs Clouds Diffractor | 87 | 25 | 1:13 |
| Autographs Black & White Diffractor | 87 | 15 | 1:22 |
| Autographs Red Storm Diffractor | 87 | 10 | 1:29 |
| Autographs Blue Dots Diffractor | 87 | 5 | 1:56 |
| Autographs Charcoal Diffractor | 87 | 1 | 1:279 |
| Autographs Printing Proof Black | 87 | 1 | 1:70 |
| Autographs Printing Proof Cyan | 87 | 1 | 1:70 |
| Autographs Printing Proof Magenta | 87 | 1 | 1:70 |
| Autographs Printing Proof Yellow | 87 | 1 | 1:70 |
| '99 TEKnicians Diffractor | 25 | 50 | 1:19 |
| '99 TEKnicians Diffractor Autographs | 10 | 10 | 1:238 |
| '00 TEKnicians Diffractor | 20 | 50 | 1:24 |
| '00 TEKnicians Diffractor Autographs | 9 | 10 | 1:238 |
| Buyback Autographs | 12 | – | 1:158 |
| Low Tek Diffractor | 35 | 50 | 1:14 |
| Low Tek Diffractor Autographs | 10 | 15 | 1:158 |
2014 Topps High Tek