Have you visited our store? Click here.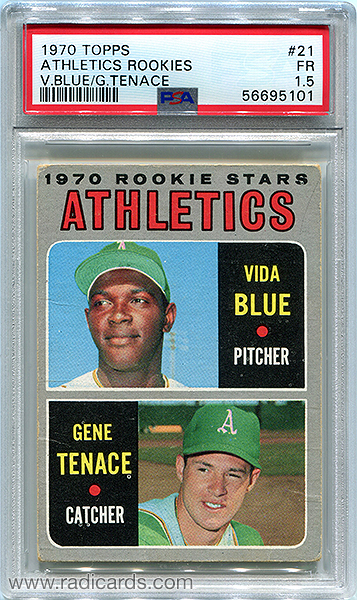 Card of the Week:
Vida Blue 1970 Topps #21 PSA 1.5
Purchased: August 22, 2022
# of Bids: 4
Final Price: $6.50
This card depicts both Gene Tenace and Vida Blue and notably it's the latter's rookie card. I've talked about this card before. What I like about it is the blue sky shown behind Vida Blue. While uncertain if it was intentional or serendipitous, it's subtle, elegant, and fitting.
You don't always need the best condition to enjoy collecting. This is an ultra low grade example of Vida Blue's RC with creases and rounded corners but it still presents really well and features great color. Half grades are considerably rarer than full grades. At the time of this writing, 696 examples of the 1970 Topps Vida Blue have been graded by PSA and just 2 have achieved the 1.5 grade.
To see the current eBay auctions for the 1970 Topps Vida Blue, click here.