Have you visited our store? Click here.
---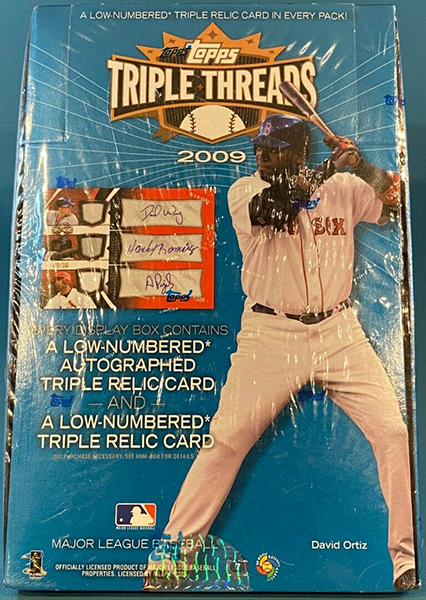 The Triple Threads arm of Topps is highly complex with lots of parts and tons of parallels. Due to the large number of unique sets, this stuff can get pretty confusing. 2009 Topps Triple Threads contains a 138-card base set and a wide range of insert sets featuring cards of retired, veteran, and rookies alike. Most of the sets come with a variety of parallels, which means there's a lot to chase. Key RCs in this release include: Fernando Martinez, David Price, and Rick Porcello.
From the design perspective, 2009 Topps Triple Threads really isn't unlike other Triple Threads releases. With minor differences from set to set, most of this stuff looks pretty much the same: die cuts with relic embeds and autographs but that appears to be the brand image of Triple Threads. Its design predictability sets it apart from other sets. The different sets offer plenty of options for collectors. If you collect a player in this set, there's a really good chance you'll be able to add at least something. The set design is also quite nice. With the exception of Plates, Wood parallels, and cards 1-100 in the base set, every card appears to have a refractor-like finish, which is always pleasing to the eye and they scan really well. The disadvantage is that if you're an ardent player collector, there's a lot to bite off and chew here. If you're a set builder, the low print runs are going to pose major challenges. Given the volume of cards produced for 2009 Topps Triple Threads, you can easily get away with just getting one card of your guy and calling it a day. For those who want to go a little further, you have options, lots of options.
To see what's currently on eBay from 2009 Topps Triple Threads, click here.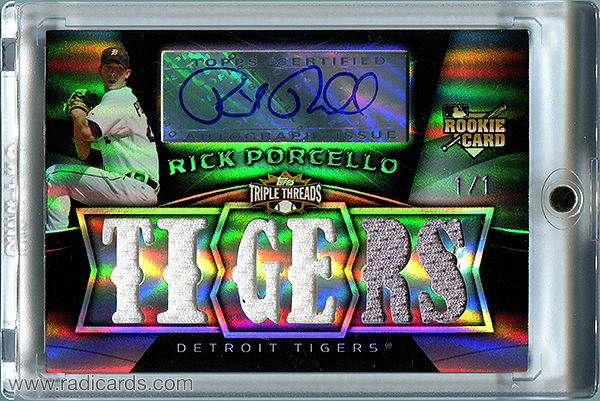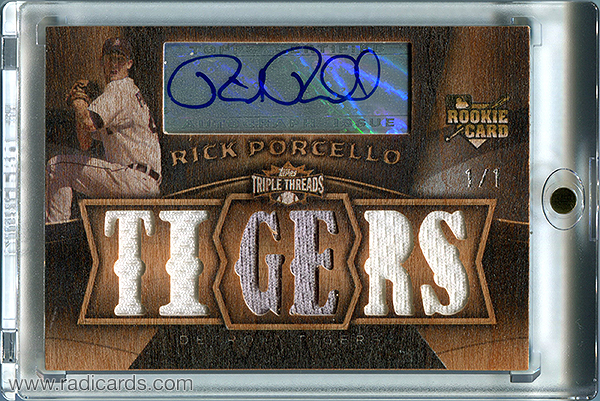 ---
Set Information:
| Important Date(s) | |
| --- | --- |
| October 20, 2009 | Release Date |
2009 Topps Triple Threads
Set
Total Cards
Print Run(s)
Odds
Base
138
1-100 /1350
101-138 /99
101-138: 1:11 Mini
Sepia
138
1-100 /525
101-138 /75
1-100: 1:- Mini
101-138: 1:14 Mini
Emerald
138
1-100 /240
101-138 /50
1-100: 1:2 Mini
101-138: 1:21 Mini
Gold
138
1-100 /99
101-138 /25
1-100: 1:4 Mini
101-138: 1:41 Mini
Sapphire
138
1-100 /25
101-138 /10
1-100: 1:16 Mini
101-138: 1:102 Mini
Platinum
138
1-100 /1
101-138 /1
1-100: 1:387 Mini
101-138: 1:1006 Mini
Wood
38
101-138 /1
1:1006 Mini
Printing Plates Black
100
1
1:97 Mini
Printing Plates Cyan
100
1
1:97 Mini
Printing Plates Magenta
100
1
1:97 Mini
Printing Plates Yellow
100
1
1:97 Mini
White Whale Printing Plates
38
1
1:255 Mini
All-Star Dual Patch Logo Man
65
1
1:610 Mini
All-Star Jumbo Sleeve Patches
65
1
1:610 Mini
All-Star Triple Patches
65
9
1:67 Mini
All-Star Triple Patches Platinum
65
1
1:610 Mini
Bat Barrels
15
1
1:2482 Mini
Bat Knobs
10
1
1:3722 Mini
Camelot Relic
1
5
1:2481 Mini
Cut Above
10
1
1:3722 Mini
Cut Above Dual
3
1
1:12,408 Mini
Cut Above Triple
1
1
Mini
Cut Above Presidential
5
1
1:3722 Mini
Jumbo Patch Combos
10
1
1:3722 Mini
Jumbo Plus Relics
15
3
1:886 Mini
Jumbo Plus Relics Platinum
15
1
1:2482 Mini
Legend Relics
15
36
1:72 Mini
Legend Relics Sepia
15
27
1:96 Mini
Legend Relics Emerald
15
18
1:144 Mini
Legend Relics Gold
15
9
1:286 Mini
Legend Relics Sapphire
15
3
1:886 Mini
Legend Relics Platinum
15
1
1:2481 Mini
Letter Number Logo
10
1
1:3722 Mini
Letter Plus Relics
15
3
1:866 Mini
Letter Plus Relics Platinum
15
1
1:2482 Mini
Relic Autographs
174
18
1:13 Mini
Relic Autographs Gold
174
9
1:25 Mini
Relic Autographs Sapphire
174
3
1:74 Mini
Relic Autographs Platinum
174
1
1:222 H Mini
Relic Autographs Wood
174
1
1:222 H Mini
Relic Autographs White Whale Printing Plates
174
1
1:56 Mini
Relic Autographs Pairs
3
18
1:730 Mini
Relic Autographs Pairs Gold
3
9
1:1490 Mini
Relic Autographs Pairs Sapphire
3
3
1:4136 Mini
Relic Autographs Pairs Platinum
3
1
1:12,408 Mini
Relic Combo Autographs
21
36
1:51 Mini
Relic Combo Autographs Sepia
21
27
1:68 Mini
Relic Combo Autographs Emerald
21
18
1:102 Mini
Relic Combo Autographs Gold
21
9
1:205 Mini
Relic Combo Autographs Sapphire
21
3
1:621 Mini
Relic Combo Autographs Platinum
21
1
1:1861 Mini
Relic Combo Autographs Wood
21
1
1:1861 Mini
Relic Combo Autographs White Whale Printing Plates
21
1
1:456 Mini
Relic Combo Double Autographs
3
3
1:4136 Mini
Relic Combo Double Autographs Platinum
3
1
1:12,408 Mini
Relic Combos
46
36
1:24 Mini
Relic Combos Sepia
46
27
1:32 Mini
Relic Combos Emerald
46
18
1:47 Mini
Relic Combos Gold
46
9
1:94 Mini
Relic Combos Sapphire
46
3
1:280 Mini
Relic Combos Platinum
46
1
1:866 Mini
Relic Combos Double
12
36
1:90 Mini
Relic Combos Double Sepia
12
27
1:120 Mini
Relic Combos Double Emerald
12
18
1:179 Mini
Relic Combos Double Gold
12
9
1:361 Mini
Relic Combos Double Sapphire
12
3
1:1128 Mini
Relic Combos Double Platinum
12
1
1:3102 Mini
Relics
117
36
1:10 Mini
Relics Sepia
117
27
1:13 Mini
Relics Emerald
117
18
1:19 Mini
Relics Gold
117
9
1:37 Mini
Relics Sapphire
117
3
1:111 Mini
Relics Platinum
117
1
1:332 Mini
Rookie-Rising Stars Relic Autograph Pairs
3
18
1:258 Mini
Rookie-Rising Stars Relic Autograph Pairs Gold
3
9
1:510 Mini
Rookie-Rising Stars Relic Autograph Pairs Sapphire
3
3
1:1283 Mini
Rookie-Rising Stars Relic Autograph Pairs Platinum
3
1
1:12,408 Mini
WBC Dual Patch Logo
24
1
1:1772 Mini
WBC Relic Autographs
6
36
1:178 Mini
WBC Relic Autographs Sepia
6
27
1:239 Mini
WBC Relic Autographs Emerald
6
18
1:358 H
WBC Relic Autographs Gold
6
9
1:730 H
WBC Relic Autographs Sapphire
6
3
1:2068 H
WBC Relic Autographs Platinum
6
1
1:6204 H
WBC Relic Autographs Wood
6
1
1:6204 H
WBC Relic Autographs White Whale Printing Plates
6
1
1:1551 H
WBC Triple Patches
24
1
1:179 Mini
WBC Triple Patches Platinum
24
1
1:1772 Mini
XXIV Legends Relics
5
18
1:7445 Mini
XXIV Relics
15
18
1:144 Mini
XXIV Relics Gold
15
9
1:287 Mini
XXIV Relics Sapphire
15
3
1:886 Mini
XXIV Relics Platinum
15
1
1:2482 Mini
2009 Topps Triple Threads