Have you visited our store? Click here.
---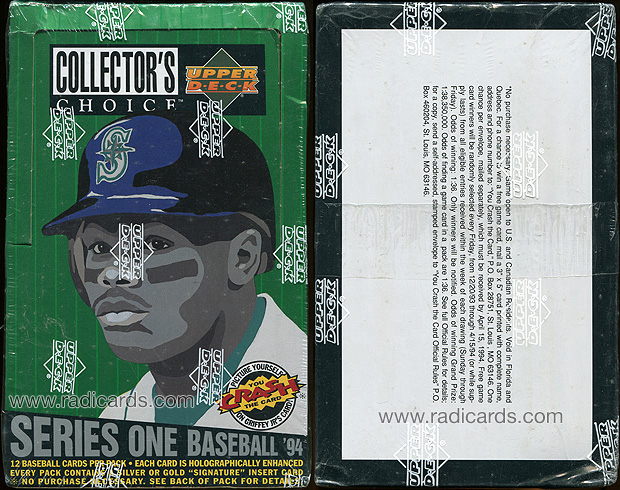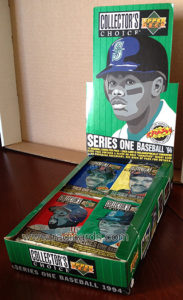 Opening this box brought me to a place rich with nostalgia. For the single year of 1994, I lived in Fairfax, VA. During that time, I was provided with memorable excitement originated by a historically significant sports event. This was the year that professional basketball legend, Michael Jordan decided to retire from the courts and join his talented brethren on the fields. This was the year that Michael Jordan committed to fulfilling the promise he once made to his father. In 1994, Michael Jordan plays baseball.
As soon as I discovered that Michael Jordan would be featured on cardboard within a variety of Upper Deck products, I annoyed my parents with continuous requests to buy me packs from anything Upper Deck produced in 1994. I opened up quite a bit of Collector's Choice in 1994 because it was a more affordable product and I didn't have a lot of money at the time. I never pulled a Jordan card. As the years past, I eventually just purchased one at a show.
Michael Jordan is featured in 1994 Collector's Choice Series 2. For this review, we'll be discussing the contents found within a single box of 1994 Collector's Choice Series 1. This box is a classic. The artwork on the box cover depicts a young Ken Griffey Jr. I remember seeing these green boxes at card shops back in 1994.
Breakdown: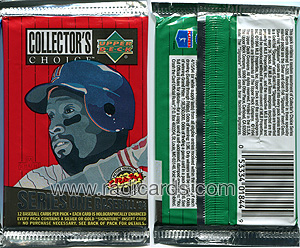 A box of 1994 Collector's Choice Series 1 Baseball
contains 36 packs, each containing 12 cards for a gross total yield of 432 cards. The set consists of 320 cards. The breakdown is as follows:
269/320 cards: % of set complete = 84.06% (This number includes some Silver Signature cards)
Doubles = 132
Inserts = 38 (Silver Signatures x36; Gold Signatures x1; You Crash the Card game card x1)
By the time this set came out, Upper Deck had already been in business for 5 years. In the beginning, things were pretty much uniform. By 1994, Upper Deck had adopted a more modern approach by incorporating a unique card design for a predetermined number of subsets within the base set. This set features a variety of designs. Let's look at the designs used in 1994 Collector's Choice Baseball
.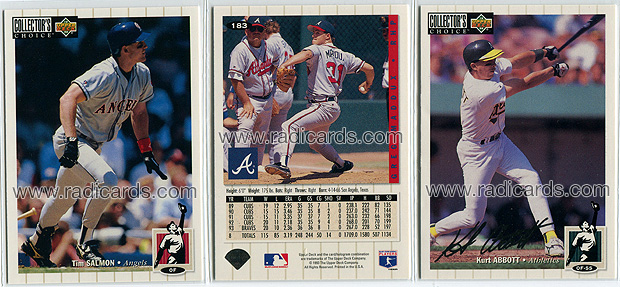 The base design is very classic. The soft gray pin stripes really add a vintage feel to this set. I also like the animated baseball character that compliments the players position located on the fronts of these cards. This set features excellent photography. It was tough selecting which cards to feature in this article. There are so many great shots of players in action, signing autographs, carrying non-traditional equipment i.e., buckets, phones, etc. This is one of those sets where the base design catches the eye, at least to me.
Related article: Michael Jordan 1994 Collector's Choice #635 Black Error
Related article: Michael Jordan 1994 Collector's Choice #635 Silver Error
This product has a very kid-friendly feel to it. From the animated depictions of players on the fronts of the packs to the baseball characters on the fronts of the cards, to the affordable price point, this product likely helped capture a younger audience in 1994.
The Silver Signature
parallel only differentiates itself from the base card with the existence of a stamped silver foil facsimile signature. As simple as this is, I actually like these cards. Silver Signature parallels were inserted at a rate of 1/pack. It was fun going through each pack with the anticipation of finding one of these.
In addition to the classic white design, this set features some photography without borders. Again, just great shots of the players.

Inserted at a rate of 1:36 packs (1/box), the Gold Signature
parallel is much scarcer than their Silver Signature parallel counterparts. I was extremely fortunate to pull the 1994 Collector's Choice Gold Signature parallel of Ken Griffey Jr. While I always knew this card existed, I had never seen one until I pulled one out of this box. I'm very happy to add this card to my collection.
Related article: Michael Jordan 1994-95 Collector's Choice #23
The Mike Piazza card in the middle comes from the run of checklists that make up the last five cards in the series 1 set. I've always liked the artwork on these cards. The card on the right is the one that surprised me. Let's look at the text found on the back of a pack.

Based on the statements made on the back of this pack, this was a "You Crash the Card" game card. They were inserted 1:36 packs (1/box). These redemption programs were always so confusing to me, which is probably why I never took advantage of them. I bought baseball cards for players, I never went much further than buying packs. I was a kid when this product came out so I wasn't very concerned with these types of programs. It required reading, usually a lot of it, and I didn't really care about reading back then. I think I can chalk that up to being forced to read in elementary school, and I always thought most of what I read was a waste of time so when I was young, reading was undesirable. I'm much older now and I very much enjoy reading. That said, I suppose I would be much more interested in understanding how to interact with this redemption program now but I'm 20 years to late.
Availability:
This was a widely produced product, which means it was available. It was one of Upper Deck's lower-end products. Don't associate that with a bad product. This was very much a good product. I would anticipate SRP's for this product upon release sitting around $30. These days, this box can be had anywhere from $7-15. I got mine for $7 but based on light market research, that price is an outlier. This box was purchased from someone I've known for a while, so you might say it pays to know people.
Supply & Demand:
Even though Series 1 didn't feature Michael Jordan, the baseball card hobby experienced a spike in demand in 1994 just on awareness of his entrance into baseball. Given the abundance of coverage on this event, it helped a hobby that was hurting due to the annihilating baseball strike. Those were hard times for the hobby. Events like this really helped improve morale.
Conclusion:
I'm a huge fan of 1994 Collector's Choice Baseball
. I think this is a great product, not too rich with inserts, and at the right price point. For collectors on a budget that want to surf the coast of 1994, this is a great place to visit. With one insert per pack and the chance of finding single inserts per box, this is an entertaining way to spend a good 30 minutes. I respect this product because it caters to two market segments: kids and collectors on a budget. I understand some companies wanting to reach only one specific market, but many times this means leaving money on the table. Sometimes it makes sense to diversify your product line to capture additional market segments. Upper Deck did just that by releasing their inaugural edition of Collector's Choice in 1994. Purchase a box of 1994 Collector's Choice Series 1 Baseball
.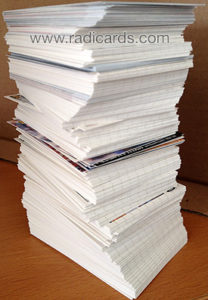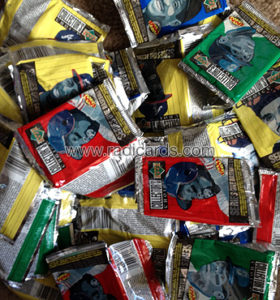 To see what's currently on eBay from 1994 Collector's Choice, click here.