Have you visited our store? Click here.
---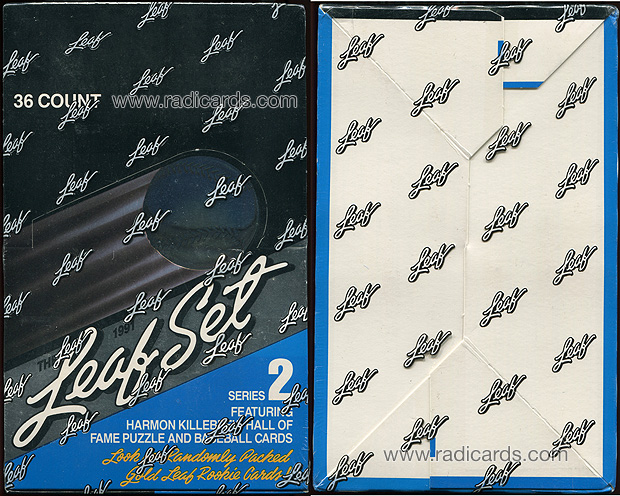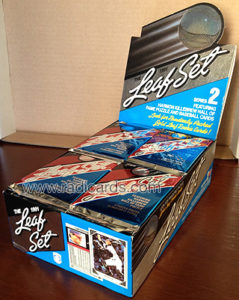 In 1991, Leaf attempted to replicate the success of their legendary 1990 Leaf release. 1991 Leaf Series 2 Baseball
features a very similar design and feel, but with a much smaller showcase of hot prospects in their base set. Star rookies such as Jeff Bagwell, and Mike Mussina are found only in the premiere Gold Rookies insert set, which at the time was highly sought after. In addition to the Gold Rookies, Leaf continued offering puzzle pieces, this time featuring Hall of Famer, Harmon Killebrew.
The packaging on this box is very animated. I like the chromed out baseball on the header of the box flip. Definitely fitting for the time. The blue against the black and silver do a nice job of creating a pop appeal. This likely helped direct attention on store counters in 1991. The base set design and feel is very similar to the 1990 counterpart. With 15 cards and a puzzle piece in each pack, this product, if priced accurately can make for an attractive price-value ratio. Again though, it depends on how you define value.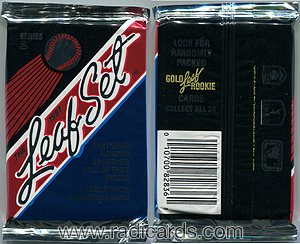 Breakdown:
A box of 1991 Leaf Series 2 baseball cards contains 36 packs, each containing 15 cards, and 3 puzzle pieces (one sheet) for a gross total yield of 540 cards, and 108 puzzle pieces (36 sheets). The set consists of 264 cards. The breakdown is as follows:
257/264 cards: % of set complete = 97.3%
Doubles: 274
One complete Harmon Killebrew puzzle
Inserts:
Gold Rookies: 9/26, 34.6%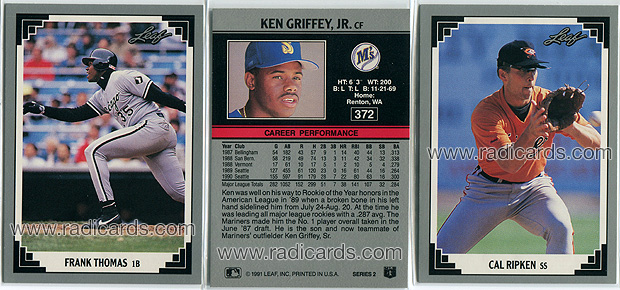 The silver found on these cards is classic Leaf. The feel of the cards are the same as the 1990 Leaf counterpart.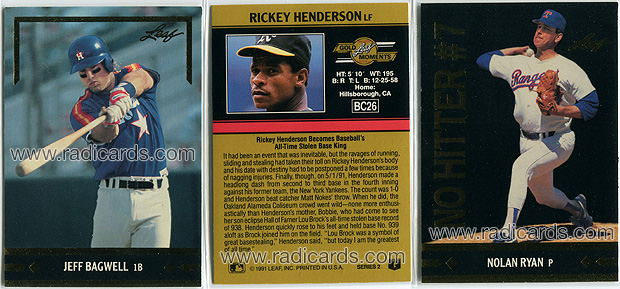 Rickey Henderson and Nolan Ryan obviously weren't rookies in 1991, but they were featured at the tail end of this set to commemorate their impressive career standout statistics. That Bagwell card, however, that's a rookie card by some form of the definition. Typically the RC' designation is only assigned to the purest form of a base card. If the base card has a parallel, it would be worth more but not considered the true rookie card. The RC' designation would then only be applied to the non-parallel version of the card. Just some thoughts here.
Availability:
This product was mass produced and widely available. It was released during the boom years of the hobby. Given the total print run of these cards, they hold marginal value. These boxes are still widely available and can be had for a very little investment. When I bought this box, it still had the sticker price on it from 1991, which was $28. These days, you can find these boxes for $5 pretty regularly. If you just want to add some low value classics to your player collection(s), I would recommend this product. Otherwise, you might just cherry pick your favorites elsewhere and call it a day. I'm not discounting this product in any way, I'm just looking at how the market has changed.
Supply & Demand:
Supply for this product is abundant. These boxes can still be found on the secondary market. Buy in person and don't spend more than $5. If you have to go a little over, $7 should be your absolute ceiling. This box features a ton of stars but very few significant rookie cards. Expect to get a high percentage of doubles but a high percentage of the complete set. If you are building a set, a single box will almost complete the task.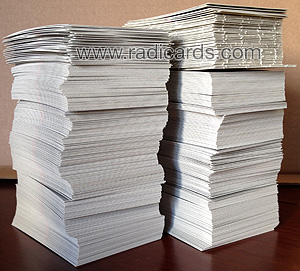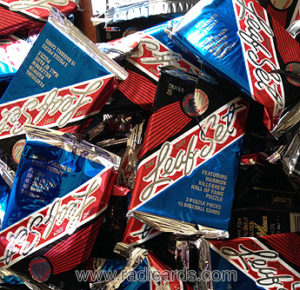 Conclusion:
For a look at what Leaf was up to back in 1991, look no further than 1991 Leaf, any series. This product features a repeat of the 1990 release but with much less marquee value. For just a few bucks, you will get a ton of cards. Some better than others, and a lot of extras. Don't expect to re-sell for any degree of ROI. Only open if you want to add some classic base cards to your player collection(s), some cool Gold Rookie inserts, and the excellent Harmon Killebrew puzzle. Purchase a box of 1991 Leaf Series 2 Baseball
.
To see what's currently on eBay from 1991 Leaf, click here.