Have you visited our store? Click here.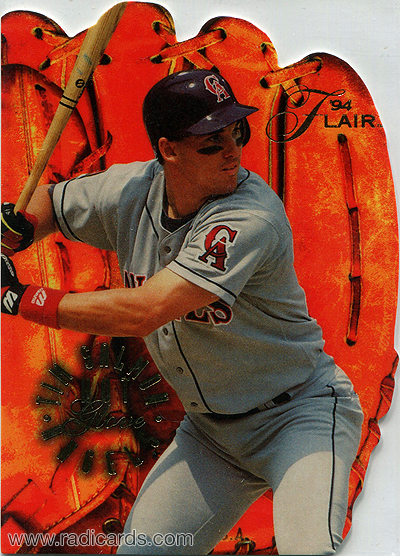 Years later and the 1994 Flair Hot Gloves (or Glove, depending on where it's being listed/sold) set still holds as a notable release. The vibrant orange color and attractive die-cut design complete with flat gold foil and excellent player action shots make this a standout concept of timeless proportions. These cards once held high premiums but in current market conditions can be had for somewhat affordable prices depending on how you define affordable.
I just love this set. I never had the luxury of opening a whole lot of packs of 1994 Flair. In fact, I only remember opening a single pack and in it yielded the Alex Rodriguez rookie card, which was completely fine with me given its notoriety in the set. I remember being really excited when I pulled that card from a pack I purchased at a hotel card show on a Saturday. Oh how I miss those days.
Anyway, what I didn't pull was a Hot Glove insert. I eventually would acquire a few singles from this set over the years as a result of rummaging through various bargain and otherwise discount bins. Flair would go on to release versions of this set leading up to 1997 but it all started with this release in 1994. At the time, the die-cut concept was taking shape in the hobby and the technology was being used almost exclusively for parallel and insert sets. When you opened a pack and saw a deviation in uniformity, you immediately knew you had something. If it was an insert, you knew it was a star. Those were the days. These were inserted into second series packs at a rate of 1:24. This 10-card set features some of the rawest talent of its time. Some of the fellas included in the set have gone on to be inducted into the Hall of Fame. Others, well, reputation or performance issues caught up to them. No matter, back in 1994, all of the guys included were superstars.
Did you open any 1994 Flair Baseball when it was released and if so, can you remember who you pulled?
To see what's currently on eBay from 1994 Flair Hot Gloves, click here.
---
Set Information:
Checklist:
| Card # | Player(s) | Card # | Player(s) |
| --- | --- | --- | --- |
| 1 | Barry Bonds | 6 | Don Mattingly |
| 2 | Will Clark | 7 | Kirby Puckett |
| 3 | Ken Griffey Jr. | 8 | Cal Ripken Jr. |
| 4 | Kenny Lofton | 9 | Tim Salmon |
| 5 | Greg Maddux | 10 | Matt Williams |
1994 Flair Hot Gloves