Have you visited our store? Click here.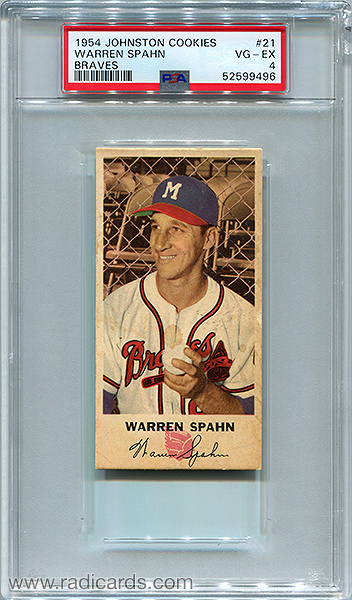 1954 Braves Johnston Cookies is a 35-card tall-boy set measuring in at 2″x3-7/8." With the exception of Dr. Charles Lacks and Joseph Taylor whose cards both lack card numbers, card numbering is assigned based on the player's jersey number, which makes this a skip-numbered set. Due to an early-season injury (which resulted in regular play for Hank Aaron), Bob Thompson's card was pulled early in the production cycle, which accounts for its rarity. Notable stars in the set include: Warren Spahn, Eddie Mathews, and Hank Aaron (rookie year) whose card number is 5 indicating he wore number 5 at the time instead of his typical 44, which he switched to shortly after this set was released. At the time of this writing the PSA population report for the 1954 Braves Johnston Cookies Hank Aaron is 277 while the PSA population report for the 1954 Topps Hank Aaron is 5916. Even though the less popular 1954 Braves Johnston Cookies Hank Aaron has a much smaller graded population, it's significantly more affordable than his 1954 Topps RC. The catalog number for this set is D356-2.
To see what's currently on eBay from 1954 Braves Johnston Cookies, click here.
---
Checklist:
| Card # | Player(s) | Card # | Player(s) |
| --- | --- | --- | --- |
| 1 | Del Crandall | 24 | Charlie White |
| 3 | Jim Pendleton | 27 | George Metkovich |
| 4 | Danny O'Connell | 28 | Johnny Cooney CO |
| 5 | Hank Aaron | 29 | Paul Burris |
| 6 | Jack Dittmer | 31 | Bucky Walters CO |
| 9 | Joe Adcock | 32 | Ernie Johnson |
| 10 | Bob Buhl | 33 | Lou Burdette |
| 11 | Phil Paine | 34 | Bobby Thomson SP |
| 12 | Ben Johnson | 35 | Bob Keely |
| 13 | Sibbi Sisti | 38 | Bill Bruton |
| 15 | Charles Gorin | 40 | Charlie Grimm MG |
| 16 | Chet Nichols | 41 | Eddie Mathews |
| 17 | Dave Jolly | 42 | Sam Calderone |
| 19 | Jim Wilson | 47 | Joey Jay |
| 20 | Ray Crone | 48 | Andy Pafko |
| 21 | Warren Spahn | 49 | Dr. Charles Lacks (Unnumbered) |
| 22 | Gene Conley | 50 | Joseph F. Taylor (Unnumbered) |
| 23 | Johnny Logan | | |
1954 Braves Johnston Cookies