Have you visited our store? Click here.
I thought about titling this article, "Beckett's Branding Blunder at the 2022 National" but decided with a mishap this bad, the company is probably already in it deep enough with collectors as it is.
Beckett is setup at the 2022 National and have huge displays of cards in a new BGS slab design at its booth #1844. When you see these, what do you automatically think? Right, that these are the new BGS slabs. What the heck else are we possibly supposed to think, honestly?
Here are some images of the huge displays at Beckett's booth.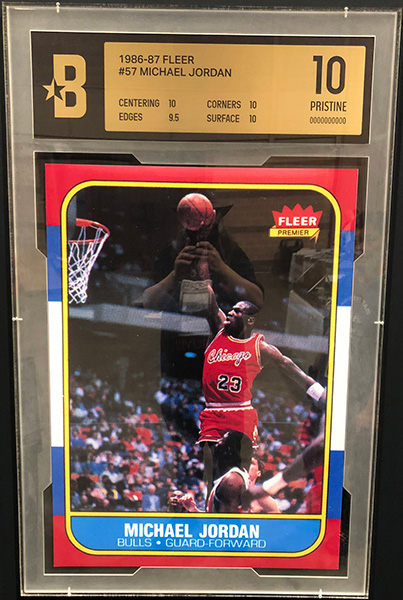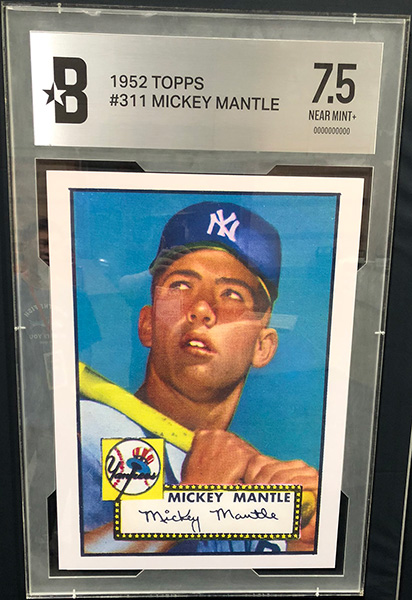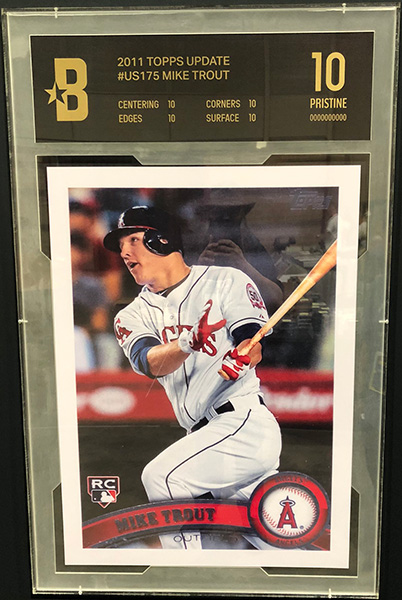 Is This the Year's Biggest Backpedal?
These images were shared on Twitter on Wednesday and Beckett responded later that evening on Twitter.
To see the tweet, click here.
There are a few problems with this:
To my knowledge, there was never any mention of this promotion anywhere prior to this tweet, which poses the obvious question – why?
Why would a company make huge displays of something that's not intended to be a final product? This is incredibly misleading.
What are collectors supposed to think when they see these giant slabs on display at the largest sports card convention on earth?
What's the point of changing an already appreciated and accepted slab design? Stuff like this can interrupt brand loyalty.
Finally, Beckett should fire whoever approved all this because they clearly have an imperfect understanding of basic brand strategy. You don't just haphazardly broadcast, with a megaphone no less, the existence of something that's claimed not to be the final product. Simply put, it's irresponsible.
If Beckett thinks there's some confusion about the super sized BGS slabs on display at the 2022 National, those are the some justifiable reasons. And if Beckett's tweet is truth, it's highly suspect.
Beckett's been in the grading business for a while and is still considered one of the Big 4. Its slabs have always been appreciated by collectors due to their sturdy design and inner sleeve. A recent rebrand apparently initiated a redesign of the BGS slab.
So the question is, are these the new BGS slabs, or did Beckett respond to negative feedback by claiming otherwise in an effort to save face?
It isn't necessary to change the design of the BGS slab just because the company designed a new logo. Just update the flip with the new logo and call it done. Changing an entire asset just because the company changed its logo doesn't make any sense.
Hey, guys, we're gonna change our hours of operation. To complement our new hours, we're also gonna redesign our building and parking lot.
Shouldn't Beckett Be Focused on More Important Things?
Like, I don't know, the longevity of the company? It seems trivial to focus on slab design when there are much bigger fish to fry over at Beckett. Here are some better uses of company time:
Figure out how to re-capture the gutted market share. Lack of market exposure, disinterest in improving customer service and listening to stakeholders, hanging on to old model processes, and implementing a series of disjointed projects have likely all contributed to Beckett's shrinking grading team and losing key players to competitors.
Aggressively pursue market exposure. Since we moved to the DFW area, I've attended 17 Dallas Card Shows and a variety of miscellaneous trade nights and shows hosted by others. Beckett is in Addison, which is barely 45 minutes away from Allen and it's had representation at all of two Dallas Card Shows to date. That company should be aggressively pursuing exposure at every card-related event in DFW and surrounding areas. That they're not is amazing but not surprising.
To reference Navy SEAL philosophy – There are no bad teams, only bad leaders.
Fix the leadership. This company is in dire need of new leadership. We're talking Code Red status. While I don't work at Beckett and probably never will, I've heard it's a hostile work environment and I know for a fact those in charge don't value talent. This has likely contributed to the myriad of negative reviews on Glassdoor, which at the time of this writing ranks the company 2.6/5.0.1 See for yourself.
These are not easy fixes but tackling them one at a time would be a wise move with significantly higher returns than tinkering around with trivial rebrand initiatives.
It's not the gift wrapping but the contents of the package that matters.
Major issues aside, however, here is Beckett, focused on a new logo and a new slab. Go figure.
It's like hanging a shelf in the kitchen while your house is burning down.
In any case, until Beckett proves otherwise, this is what many collectors consider to be the new BGS slab. I guess… What was wrong with the old one?
Reviewing the New BGS Slab (assuming that's what this is)
BGS kept the squared corners and metallic flip design, which appears to have expanded to grades below 8.5. However, it looks like the inner sleeve has been nixed, which will likely invite criticism since that was a favorite characteristic of the original BGS slab. It'll be interesting to see if the new slab is thinner than the old one and if stacking remains the same or not.
What do you think of the possible new design of the BGS slab? Share your thoughts in the comments area.
Oh, and in case you didn't catch it, Beckett's rebrand included a new website (subdomain), which was also not necessary as they could've just updated the existing one. To see the new one, click here.
On 7/27/2022 the new website featured the new slabs. On 7/28/2022 those images were removed but then reinstated some hours later.
To view the current eBay auctions for trading cards slabbed by BGS, click here.
References:
I once asked a Beckett HR rep. about this but wasn't provided with an answer that instilled any consumer confidence. ↩︎