Have you visited our store? Click here.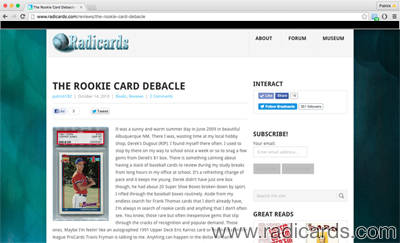 You know, I thought about covering this information in a video but then I thought it would be better expressed in writing. That and I do enjoy writing.
Radicards® has experienced a bit of a necessary facelift. The original design needed a bit of modern finesse to bring it current to important factors such as responsive design, and Search Engine Optimization (SEO). Before I get into the meat of these updates, I'd like to give a big thanks to the helpful folks at Dreamhost for helping me with a database migration. With a few phone calls, I was able to make some much needed changes to the site.
Radicards® has undergone a series of changes. It's essentially the same as usual, just better. That said, let's have a look at what's been done.
Responsive Design. The new design enables the site to be viewed comfortably from any device and without the use of any additional software. In an effort to do more with less, this move was needed. I also went with a layout that provides soft gray fonts over a white background, which I think makes the content easier to read. To ensure brand consistency, the background remains similar to that of the previous layout.
SEO. After a complex database migration with lots and lots of headaches and sleepless nights, I spent an entire week making all of the content highly searchable and more visible on the interwebs. I've also made it easier for me to work with my content. I know that sounds strange but I've learned a lot about digital marketing since the site's inception back in July of 2010 and I took this database migration as an opportunity to apply that knowledge.
The Radicards® Forum is now a Subdomain. To ensure brand consistency, the domain, radithreads.com has been changed to the subdomain, forum.radicards.com. I haven't decided what to do with the forum since it's seen very little traffic over the past year.
We've come a long way since the beginning and will continue to grow with time. It's gonna be a great year. Thank you for reading. I look forward to providing more great content in 2016.
If you're looking to build a site and need a hosting company, I highly recommend Dreamhost. If you sign up, please reference my name, Patrick at radicards.com. Thank you.