Have you visited our store? Click here.
The following article was written by hobby veteran, Rich Klein.
---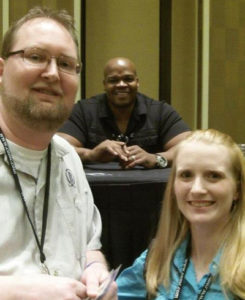 I just returned from the 38th National Sports Card Collectors Convention and had a wonderful time. I saw so many people I had not seen for a couple of years and most of the Dallas collectors were able to either set up or walk around. By the end of the show was better known as Dallas North.
However, there is one person not there I just wanted to reach out and say how much I missed him and his enthusiasm for the hobby and life in general. One of the great joys is to chat with lifers like myself who really enjoy the cards and the camaraderie. Sadly, my old friend Mark Anderson, one of my favorite lifers in the hobby is way too sick to travel that distance and attend the National.
This was the gist of a recent facebook message recently: "Readmitted, please call my wife to set up a visit"
I first met Mark when he arrived at Beckett Publications more than 20 years ago and while he was a very decent analyst, he was really able to grow wings when Beckett grading was starting. For perhaps the first month at Beckett Grading, the entire department was Mark; Scott Kirklen and hobby legend Wayne Grove. Between the three of them, many of the aspects so many collectors appreciate about BGS were hammered out in that conference room over the first couple of months.
If you are reading this column, you realize what a success BGS has begun and much of that credit has to do with Mark. After Mark left BGS, he had various roles in the hobby including stints at COMC (where I am now employed), Heritage Auctions and Jimmy Spence Authenticators (JSA). In all of these places and in his personal dealings with people, Mark always brought both a professionalism based on attempting to do the right thing which also reflected his spiritual beliefs.
So, tonight if you say your prayers, please say one for Mark Anderson whose impact in the hobby is being felt every day when you look at a BGS card.
Rich Klein is a Catalog Maintenance Expert for COMC.