Have you visited our store? Click here.
The eBay bag came in serious handy at this show. I'm so glad it was available. While my shoulders took a beating, it was worth it and the pain subsided after a short time anyway. It was a lot of fun going through bargain bins but for Day 5 I bought a lot less because I made it a point go back and meet with dealers and take pics. If I found a bin as I walked around, I'd stop and dig around. I did find some nice low end but certainly excellent pieces.
Thoughts to consider:
The term "Book Price" hasn't been relevant since the late 1990s.
For collectibles, price should be determined more by condition and rarity than anything else but the customer ultimately determines value.
Partial interest should be consider seriously as it's better to buy it and kinda want it than not buy it and later regret it.
The art of collecting isn't a perfect activity. Be okay with not buying something you should have and realize there will be other cards in the future.
Era themes make the perusal of bargain bins somewhat interesting but not always desirable.
Quantity discounts make sense until they prevent the ability to offer promotions. When this happens, the price should actually go up.
Alphanumeric systems make location tracking more efficient in large convention halls.
With a limited schedule, search strategy should be considered when going through full inventories of bargain boxes.
I'm working on a strategy that will allow me to go through a table of boxes in 30 minutes that would take most people 5 hours. If I can master this, I will be able to see more and maximize my total output.
I revisited the table where I bought the PSA 9 1975 Topps Doug DeCinces RC. This time, I came up with the following for $40:
1987 Donruss David Cone PSA10
1987 Fleer Wally Joyner PSA10
1989 Upper Deck Sandy Alomar Jr. PSA10
1990 Leaf John Olerud PSA10
2007 Bowman Chrome Red Refractor Fernando Martinez PSA9 x2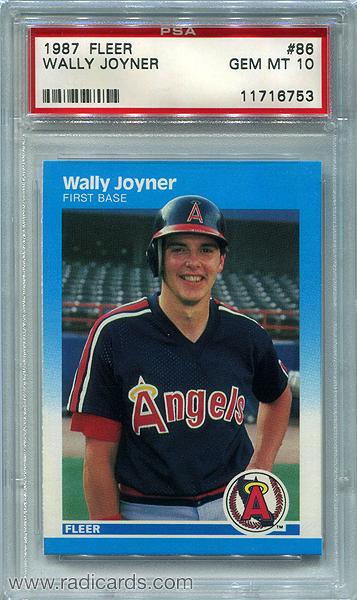 I visited Evan Mathis a few times as his booth had some really incredible pieces again this year. Plus, it's always fun chatting with Evan, he's a good dude with a great taste in cards. Just next to him was another dealer who had a series of really nice bargain boxes. All the cards were in Card Saver 1s, which always makes for a quick search. I went through them all and pulled out a stack, negotiated and went about my day. However, I later wanted a few more cards in those boxes but it was the end of the last day of the show. Was I out of luck?
Later in the evening I began thinking more about the five cards I wanted in those boxes so a few days later, I emailed Evan and asked him who was setup next to him. He gave me the name with contact info so I reached out to the seller. The seller remembered me and asked me for the list, which I provided. A few hours later I called the seller and we talked about the cards and he indicated he'd just given all the boxes to a consignor, of which he provided the name. After the phone call, I called the consigner, of which I happen to know the COO. We talked and caught up, I provided the list of the five cards and he said he wasn't aware of the deal but if it does come through and he runs across them, he'd let me know but no promises if the cards will be found. I accepted that and was reminded again of the importance of buying something even if I'm only partially interested in it. This will save me tons of time in the future if my interest grows.
If you're even partially interested, buy the item. Later you'll be thankful you did.
The day concluded with an interesting experience. I was visiting with one dealer and off in the distance, I see a large banner that said, "Meet John Kinsella." Then beyond the banner within the table area was Dwier Brown – the actor who played John Kinsella in the movie Field of Dreams. I knew I had to make it over there to meet him so I tactfully concluded my encounter with said dealer and made my way over to the booth. I introduced myself and had a very cordial conversation with Brown about normal stuff – where he lives, what he's up to, how he's doing, etc. It was a nice experience to chat with him. I then bought his book, If You Build It…: A book about Fathers, Fate and Field of Dreams and had him sign it then we took a pic together in front of the banner.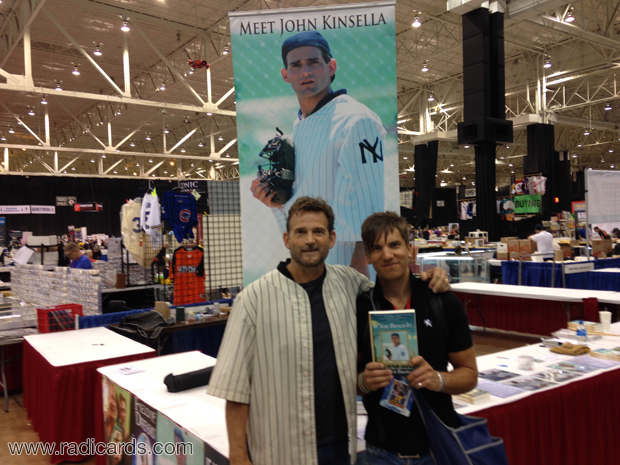 To get a copy of If You Build It…, click here.
What a great conclusion to the final day of the 2018 National Sports Collectors Convention. Enjoy the following gallery of photos I took on Day 5.
---