Have you visited our store? Click here.
---
The July 2021 installment of the Dallas Card Show occurred with somewhat less attendees. One can only assume The National being scheduled just two weeks later may have had something to do with it. We didn't get The National in 2020 so it was expected by many to be robustly attended in 2021. Even so, however, the Dallas Card Show didn't disappoint. Those who attended were met with additional value this time as new events were scheduled by sponsors, which made for some excellent networking opportunities. Blokpax put on an interesting event to kick off the show on one of the nights. While I'm still not entirely clear on the concept, those who are appeared to enjoy the event and while I wasn't a participant, I found it to be entertaining too. Alas, my focus remained on the one aspect of these shows I love the most – the bargain bin.
---
Raw Highlights:
As shared in the discussion portion of the video (second half), the following are some pickup highlights from the show. We'll go in reverse order here. I still can't believe I found that 2017 Stadium Club Gold Mint Randy Johnson for $1. The 1976 Topps Dennis Eckersley rookie card is one of the nicest examples I've ever seen and as such I paid the asking for it. As for the John Lackey superfractor, I found this card on Thursday night and noted its location for a return and purchase on a later day. The seller was nice enough to allow me to share some thoughts prior to negotiating for this card. Given it's from one of my all-time favorite sets, 2010 Bowman Chrome, I had to have it and the price was fair for both parties.
To view the current eBay auctions for Stadium Club Gold Mint parallels, click here.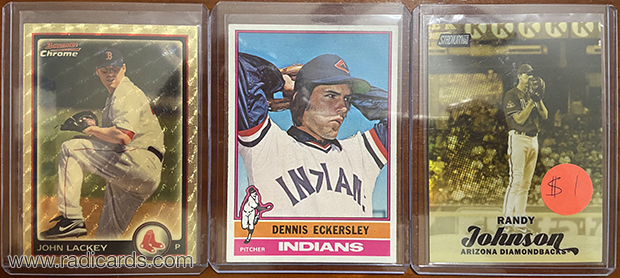 Vintage:
My vintage pickups were rather slim this time but was happy to add some early Hank Aaron's and more 1970s Nolan Ryans among others. Here's the modest batch.
Junk Wax:
I think I did pretty well in the Junk Wax department this time. Hitting deals on these is hit or miss but usually the former. I had my eye on that pile of 1991 Upper Deck Ivan Rodriguez rookie cards the last show but didn't grab them so decided to go all-in this time. They were fairly priced and I knew I'd be bothered if I didn't take advantage of the opportunity to add them. As for the stack of 1992 Upper Deck Manny Ramirez rookie cards, that too was something I'd been eyeing over the past couple shows. The seller offered them to me for a price I simply couldn't pass up so here we are. The rest were cherry picked over the weekend. I can't seem to get enough of this stuff and that's okay.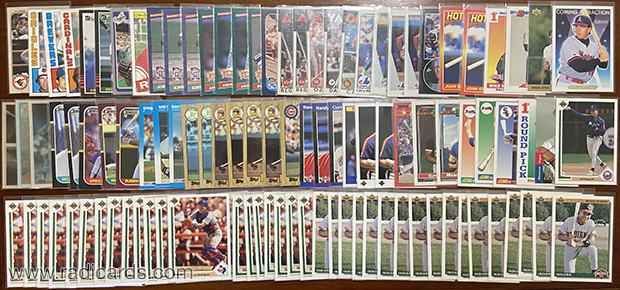 1990s Inserts & Other:
The 1990s+ haul was strong this time. As with most categories, I'm exceptionally picky but found some really interesting pieces that were first appearances for me as well as some flat-out plain old good deals, and I came out with two 1/1s this time. It was nice to add more of those cool Nolan Ryan Whataburger cards too. If you look closely, you'll see some really interesting cards in this batch. Have a look.
To see the current eBay auctions for the Nolan Ryan Whataburger cards, click here.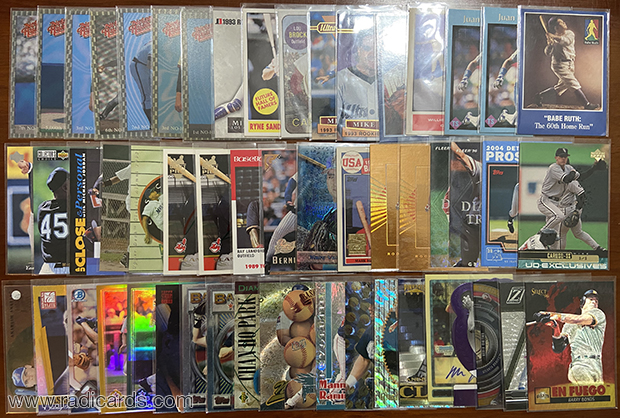 Graded:
Who would ever bother slabbing a low grade example of the 1981 Donruss Vida Blue?! So random and such a poor use of money. This is the only example of that card ever sent to BGS making it a Pop 1. It's okay; that doesn't impress me either. This card was all of one dollar. I'm still floored by the circumstance. Unreal.
The two Nolan Ryans shown here are awesome and both were in graded bargain bins from what I believe was the same seller. This is my first Kellogg's Nolan Ryan and since I'm not eager to bother with high grade examples of this card, I'm completely happy with this BVG 8. The 1992 Leaf Black Gold is either a prototype, an error, or both. There's really no way to tell but I will say this, with silver foil on the front and green on the back, it's the only example like it across all Black Golds I've ever seen of any player. Obscure is an understatement.
The Marc Newfield 1991 Topps Desert Shield was a nice add at $5. This is another card that falls into the don't-need-a-high-grade-example category. The seller had a box of low grade Desert Shield slabs and this was the only name I recognized so figured I'd grab it. I can remember Newfield listed in price guides back in 1991. My have times changed.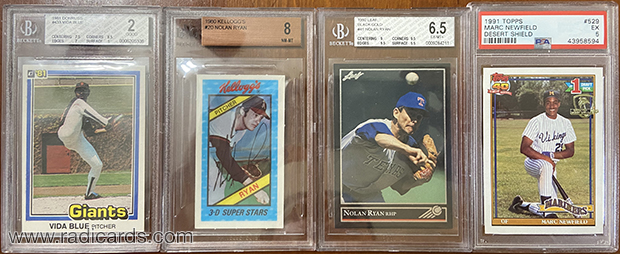 Basketball & Football:
I picked up some interesting pieces in the Basketball and Football categories. It was nice to add more 1992 Topps Gold parallels; Alonzo and Sprewell were the notable additions. I was surprised to see the Intimidation Nation Ryan Leaf in a showcase with some of its buddies from the same set. I'd been eyeing this card on eBay for a while but wasn't interested in paying the relatively high asking price so have passed on it all this time. At $5, however, I'm game. The rest of this stuff is rookie status, rare, or just plain cool.
Okay, so check this out, ready for this? If you look closely in that second row, you'll notice the words, "The Admiral" in sparkle silver. That's a very rare David Robinson card. Here's how it was released: If you were a Hobby Account in 1992 and ordered 7500 cases of 1992-93 Hoops, the company sent you this card along with a similar card of Magic Johnson. Talk about gnarly. This card was $2 but due to the way it was released should be worth thousands.
To see the current eBay auctions for the 1992 Hoops Admiral David Robinson, click here.
Other interesting finds include a Christian Laettner refractor, a 1996 Fleer USA Grant Hill, and a 1997 Pinnacle AP Barry Sanders. What a fun weekend for my modest Basketball and Football card collections.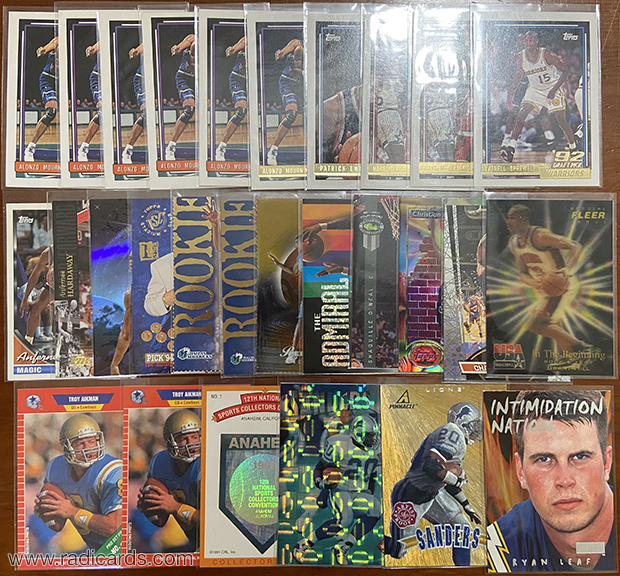 ---
In Conclusion:
July 2021 was a great month and made even better with the addition of a Dallas Card Show. As with previous shows, I met with new and existing contacts. Special Thanks to the Allen Police Department for assisting in the arrest of a thief who stole a couple high end cards at this show. One of which was recovered with the other hopefully recovered sooner than later. The arrest happened in the main hall and was met with immediate celebratory praise by the attendees in observance. We're very thankful.
---
Image Gallery:
Here's a gallery of cool stuff I saw at the show. Three of these cards I now own. Have a look.