Have you visited our store? Click here.

It was a hot day in late May, 2017 and my mother and I decided to attend this nice little event. We initially became aware of it both from a combination of local billboards and online ads. I was excited to see the touring National Baseball Hall of Fame Exhibit make a stop in Albuquerque, NM. Having spent a number of years in a much larger city, Los Angeles, I now see Albuquerque as a very small town. It's all a matter of perspective.
This was an interesting event because it was essentially an abridged tour through Cooperstown on wheels. Several excellent pieces were highlighted, many of which I've seen before but are always appreciated.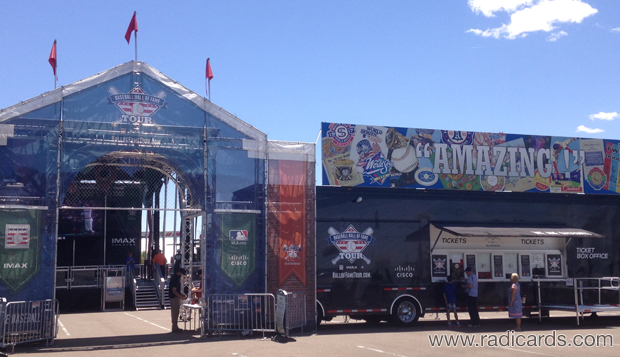 It's interesting to see such an event implemented by way of road travel. I can only imagine how many team members are needed to make it happen. I mean, I suppose I shouldn't be all that surprised by it since I've been to the Vans Warped Tour several times and that entire showcase is a traveling event. I guess I'm just floored by how extensive this stuff can get.
The HOF exhibit was made up of several trucks, each made out to be a separate room showcasing a certain theme of items under the umbrella of baseball. Many classic staples were on display such as the Lou Gehrig trophy alongside the famous picture from his farewell speech of 1939, Harry Caray's eyeglasses, a hot dog vending bucket from 1910, and even an authentic example of the famous T206 Honus Wagner card.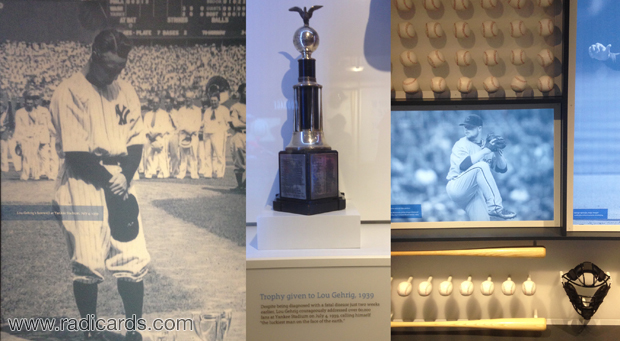 It was fun to see some of these items up close as this was my first time seeing them in person.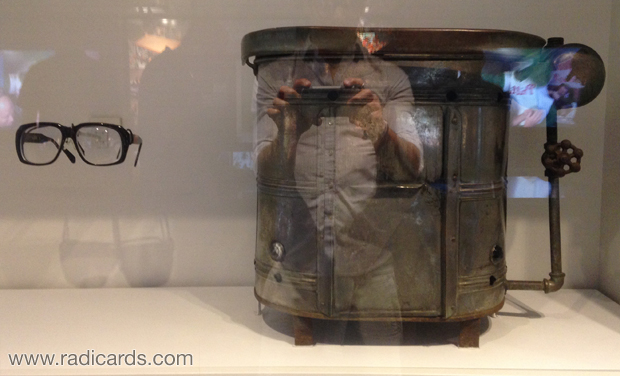 It's kinda strange to see a pair of eyeglasses on display. Seeing them floating next to a hot dog bucket was likely a rare scene. I don't imagine I'll be seeing too many more of those items on display right next to each other any time soon. If for no other reason than the rarity of the interaction alone, I enjoyed seeing these two items. They're both excellent pieces as standalones.

I've seen quite a few T206 Honus Wagner cards in person in my day and I had to take a close look at this one to confirm legitimacy. From what I know about the card, this example certainly looked authentic. I was shocked, however, by the fact that the card was presented in what appeared to be completely raw form, no case intact. In a way, I felt the Baseball HOF was being somewhat irresponsible with their degree of negligence associated with properly displaying what many would consider the most important, and valuable sports card of all time.
I had to snap a shot of Nap Lajoie. I totally dig the double collar on his jersey – one down, one popped. The baseball was also a new one for me. It's one of the oldest baseball artifacts I've ever seen. It's from a baseball game between the Excelsiors and the Olympics in 1866.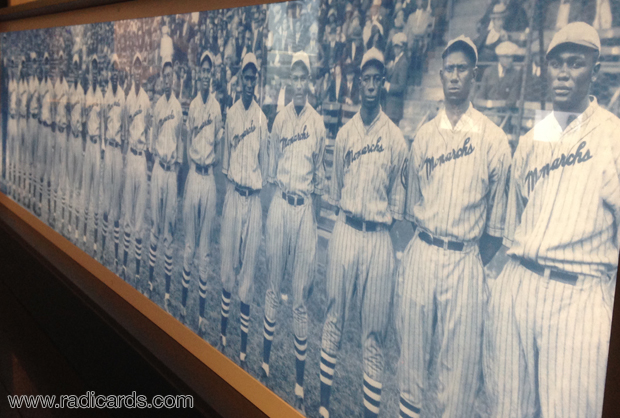 I hadn't seen this image before and thought it was an excellent one. It's a photo of the Kansas City Monarchs circa 1920s.
To view the current eBay auctions for Kansas City Monarchs items, click here.
Something else they had on display was interactive technology. I took the opportunity to throw together my own Hall of Fame Plaque but not after enjoying some virtual reality of sorts.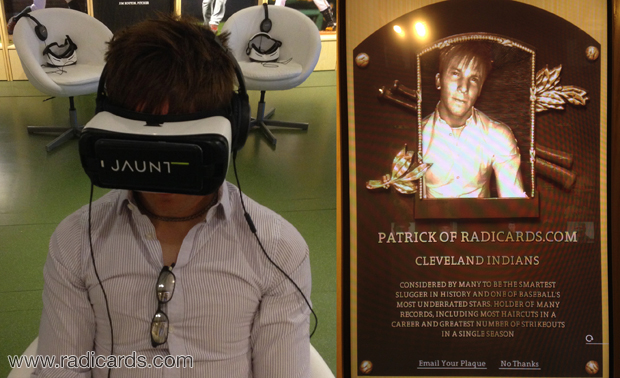 The virtual reality experience was somewhat interesting. You put on the giant goggles and you're instantly taken to a local pub where people are cheering for the winning baseball team on one of the many screens on the pub walls. As for the plaque, while the options were limited, it was fun playing around with them to create what you see here.
This exhibit was a nice experience and one I would recommend to any baseball fan. If you get a chance to go, I'd encourage it.