Have you visited our store? Click here.
From the Midway Airport to the Blue Line to the Donald E. Stephens Convention Center in Chicago, IL – we arrive at the 2017 National Sports Collectors Convention at approximately 230p.
Because our room wouldn't be available to us until 3p and the Topps VIP Reception began at 330p, we dropped our bags and scurried over to the event in an effort to get Jose Canseco to sign our items. He was kind enough to be part of this fine event and as a complement to VIPs, his autograph could be had for free. He signed in two locations back-to-back so I took advantage of the opportunity to meet Jose Canseco… twice. This is the third and fourth time I've met Jose Canseco and had him sign a third and fourth copy of his famous 1986 Donruss rookie card.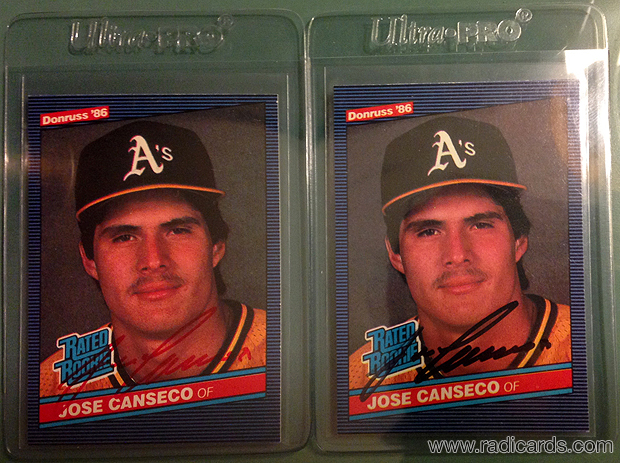 With these two additions, I now have 5 examples of this card all signed with different color markers: Blue, Silver, Green, Red, and Black. I was excited when I discovered Jose Canseco was going to be here signing because it meant I could possibly get a few more for the run to finish it off. I can't think of another color I'd like to add so for now, the five unique ink colors will make for a nice rainbow.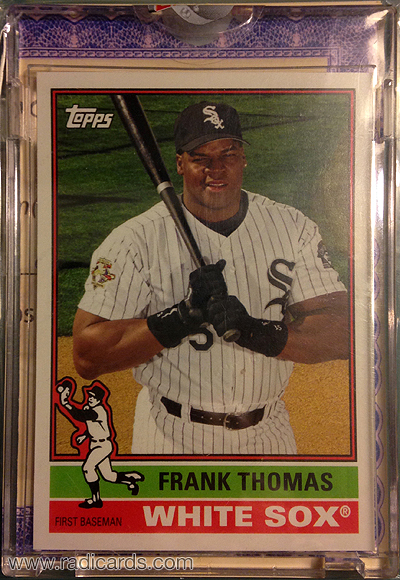 While standing in line, Dan G. and I made friends with the fellas standing behind us. We talked for a bit about what we collect, why we're at the show, etc. When I indicated I was a Frank Thomas collector, one of the gentlemen indicated he had a Thomas card in his bag. When he pulled it out, I immediately recognized it as an overpriced listing on COMC that sat unsold for many months. I facetiously gave him a hard time and we had a good laugh. After a speedy and very reasonable negotiation, it entered my collection. Enter the 2015 Topps Archives Topps Vault Exclusive. This was a purchase of paramount serendipity.
After the reception, I hit the show floor and immediately remember how extensive this room is; it's massive. I start serpentining the rows and ask literally every dealer if they had Frank Thomas (The Big Hurt). The first day was a bit dry with Thomas stuff. I found a few odds and ends: GU cards, base, whatever, all stuff I needed but I am looking for higher end pieces not from the modern era. I saw some of these pieces but I already have them all. Alas, I keep looking. Speaking of 1990s inserts: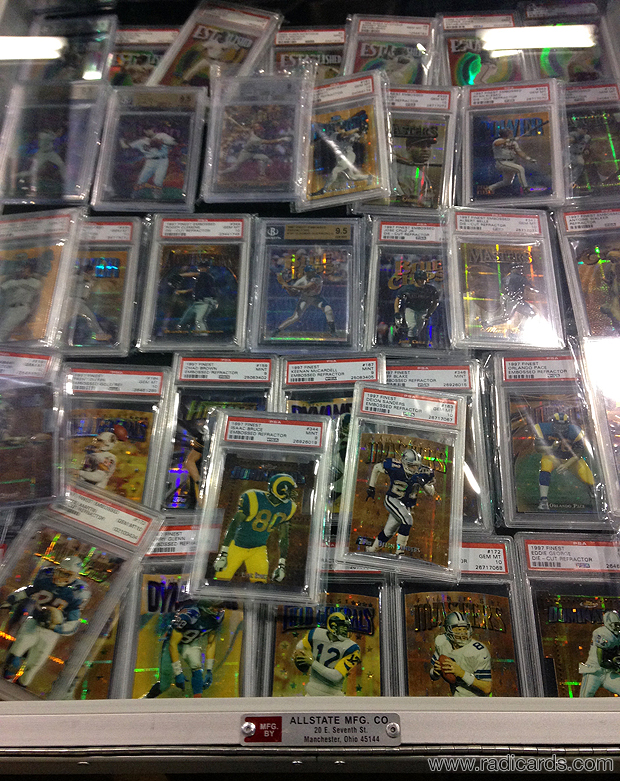 As I walked around, I saw a man carrying a homemade plaque featuring a complete set of 1996 Topps Mantle Finest Refractors. It was an excellent display and the fella indicated he found it that hour for a bargain price. I was happy for him even though a part of me wished I was the lucky one to have stumbled onto that fine deal.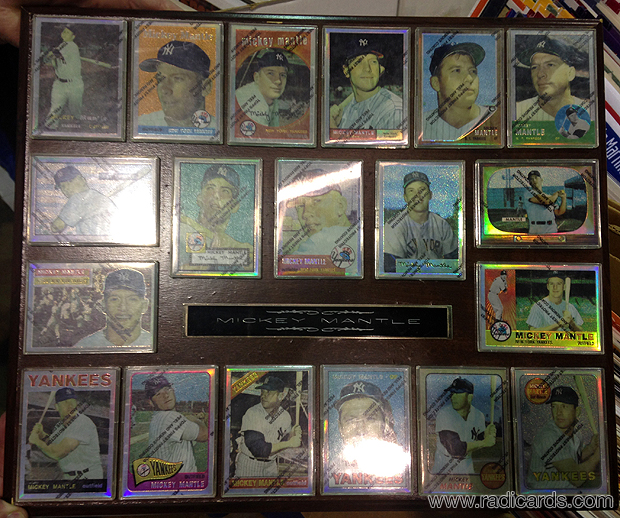 When I meet dealers and inform them of what I'm after, I get the opportunity to learn about them as well. Today, I met a dealer who had two BGS examples of the 1990 Topps Frank Thomas NNOF, a 7 and an 8.5. He also had just acquired the always impressive 1994 Upper Deck Ken Griffey Jr. / Mickey Mantle Dual Auto. This is a card I've always wanted. Timing is everything.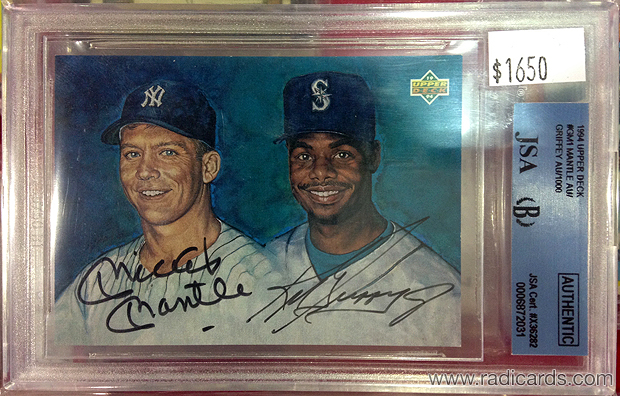 To see the current eBay auctions for the 1994 Upper Deck Griffey/Mantle Auto, click here.
I'll take pics of stuff I like looking at even though I have no intention of buying. Here are a few pieces of eye candy for your enjoyment.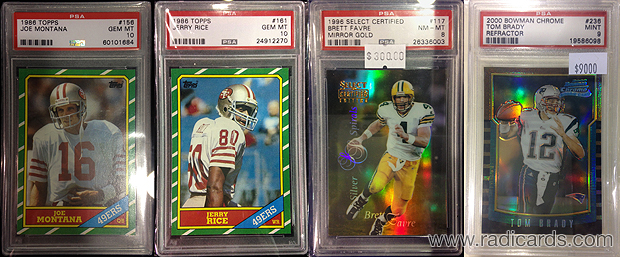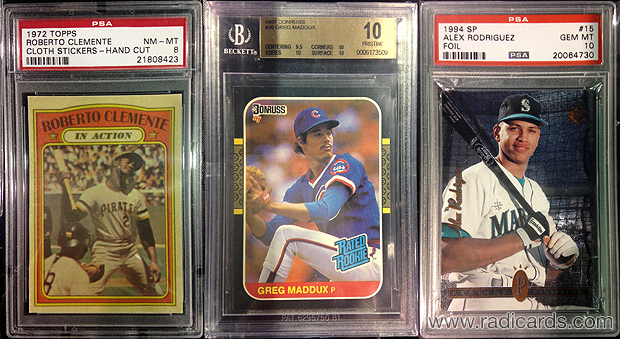 I didn't spend a lot of money today, which is always nice. Toward the last hour of the show, I found myself digging through some pretty darn excellent bargain bins. I was selective but was able to get a stack of key Junk Wax Era rookie cards for a very attractive price. All in all, it was a very good first day.