Have you visited our store? Click here.
The 66ers are a Class A affiliate of the Los Angeles Dodgers. This was my first time seeing these guys play and, as usual, a good time was had by all. I had free tickets so I took my buddy Ryan. Given the inland location (the stadium is located in sunny San Bernardino) we were prepared for hot weather. When we got there, there was a rather lengthy line stretching all the way around the stadium, which kinda reminded me of summers at the Warped Tour. Upon entry into the stadium we were greeted by some rather charming cheer leaders of sorts. They were handing out free blankets. This was when I realized that it wasn't going to be so hot after all and that I should have considered wearing shoes instead of sandals. A free blanket is a nice touch to a baseball game. Before the game we walked into the gift shop to review the typically overpriced merchandise. As I perused the shelves I found what I was looking for: Class A baseball cards. They had sets from '03 to present. I didn't know which to buy given that the packaging didn't contain a list of players, so I passed. Off to find our seats. Quick note; my tickets were for executive box seats so we were right in the middle of the action. Best seating location in the game!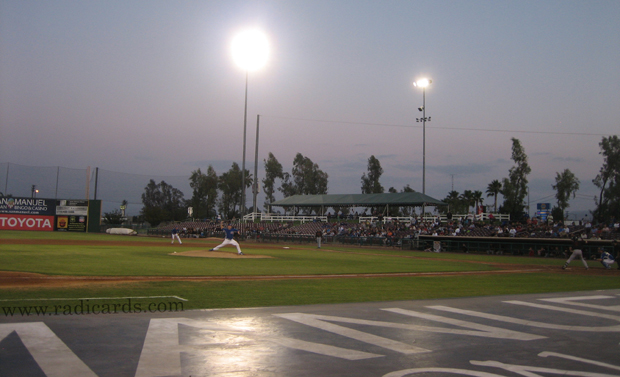 No distractions, and no exceedingly tall people sitting in front of me… just a sterling view of the game. Given that we were in front of the dugout we were exposed to all sorts of mid-game antics. There was the 66ers mascot Bernie which, essentially, is a large animal of some sort, not really sure what maybe a bird or a dinosaur? He would whimsically walk along the top of the dugout encouraging crowd excitement by dancing around and giving out free shwag. I have never seen so many people scream that loud over a personal pan pizza.
Aside from Bernie's antics the 66ers cheer team took the dugout on a few occasions. Their dance routine was impressive. I remember wondering how one goes about applying for a job with the 66ers cheer team. Do they require prior cheerleading experience? Are they partial exclusively to age and good looks? I only ask this last question because the girls all appeared to be roughly the same age and height. But I digress… These are the kinds of things I think about when I'm at a baseball game.
As the game progressed and the sun approached the horizon, the temperature dropped and I was soon uncomfortable wearing sandals and a short sleeve shirt. Wishing I had brought a jacket I remembered that I was provided a free Andre Ethier blanket at the entry gate. Interestingly enough I didn't use it as I was too busy taking pictures and mentally chronicling the game. With all of the activity taking place within my field of vision, I was often times too pre-occupied even to watch baseball. Maybe these seats weren't as non-distracting as I had initially anticipated.
I wonder if cheerleaders ever get tired of the routine, if Bernie ever has a bad day or if the 66ers best hitter ever just wants to stay home. I know these are totally pessimistic questions but I am just curious. It could be somewhat interesting to see Bernie throw a pizza instead of toss it. Yes, well, I suppose it's just nonsense to think of such things.
According to some sources the further you go inland the more dangerous it gets. I can't back for the validity of this claim but I will say that when we paid for parking at the stadium we were provided a disclaimer to the effect of 'if something negative happens to your things while at the stadium, it's not our fault and you can't sue us. That abdication in full detail:
I had my first Dodger dog at this game. I didn't take a picture because it didn't occur to me to do so… well that and I was too hungry to care. Given that I hooked Ryan up with a free ticket he returned the favor by taking a bath financially and buying me the Dodger dog. For $5.50 he could have bought a dozen hot dogs from the market and fed a large group of friends. Next time I will note $.50 hot dog night. I don't care who you are, charging $5.50 for a hot dog is a crime against the hungry.
The 66ers lost this game by a single point. If I can remember correctly the score was 4-3. No matter, live baseball is always a classic pastime. With free blankets, cheerleaders, an ambiguous mascot, overpriced hot dogs and screaming fans, this baseball experience was an entertaining way to spend a Sunday afternoon.
Below, find pictures of the Ethier blanket and the corresponding promotional advertisement displayed on the score/info board.
To view the current eBay auctions for Los Angeles Dodgers baseball cards, click here.