Have you visited our store? Click here.
In this video, I discuss Len Dykstra's book, House of Nails, which is an excellent read. In it, you'll learn all kinds of interesting stuff about the Mets All Star who participated in the famous 1986 World Series. Highly recommended!
To grab a copy of House of Nails, click on the image to the right or click here.
---

The December 4-5, 2021 installment of the Dallas Card Show was a special one. Typically, these 2-day shows are located in small to medium-sized hotel ballrooms. But this particular show was in a much larger ballroom with dealer spillover into the entryway. For the 2-day shows, I typically just attend the first day because that's usually all I need to get through the whole room. While I initially planned on attending just the Saturday, I came back mid-day Sunday to help a friend pack out and in doing so made a few last-minute pickups. This was a choice venue; I hope to see the 2-day show in this location again in the future.
---
Junk Wax:
I'm proud of my pickups in the Junk Wax category. Many of the usual suspects are in attendance with notable additions being:
1986 Topps Tiffany Len Dykstra
1987 Fleer Glossy Bo Jackson and Barry Bonds
Signed 1987 Topps Rafael Palmeiro
2x 1994 Upper Deck Electric Diamond Alex Rodriguez (Not a Junk Wax card but it fits here)
I had a Luis Gonzales RC and a few Matt Williams and Kevin Maas RCs sitting on my desk that I grabbed in a $0.25 box at a shop a few weeks back so threw those in this pic for good measure.

1990s Inserts & Other:
I came in a little lighter weight in this category this time but am completely happy with what I found. I picked up a few post-career Frank Thomas cards. It was a nice surprise to find that Roberto Alomar Cramer's Choice /80 for $10. That David Ortiz is a Platinum Blue parallel. I don't see 1996 Finest Gold Refractors in the wild very often so it was nice to add the Jason Giambi. This would've been a big card in 2000 when he was MVP. It's cards like this that have me pondering historical price guide valuations.
To view the current eBay auctions for 1996 Finest Gold Refractors, click here.
Graded:
I can remember attending a show back in 1995 and buying a raw example of the 1995 SP Platinum Power for $8, which at the time was full book value. I was then starting to focus my collection on quality over quantity. Back then I'd save my allowance and take whatever I had to shows, which was usually around $20, and sometimes use it to buy just one or two cards. At the show in 1995, I saw this card in a showcase with a lamp overhead and knew I had to have it. When I saw this PSA9 example in a dealer's graded card box, I told him the story and how this is one of my favorite Frank Thomas cards. I just love the set design, the brown color, the die cut, and the action shot. It's just an instant classic and it's very affordable. Sometimes value isn't what makes a card special. Sometimes all that's needed is a good memory.
I must've moved the seller with my dialogue because he insisted I just take the card at no charge. I was surprised and initially told him I'd rather pay but he insisted. He said he had two other PSA9s of the same card and to take it and not worry about it. I thanked him and gently slid the slab into my jacket pocket. It was a good day; I'm very thankful.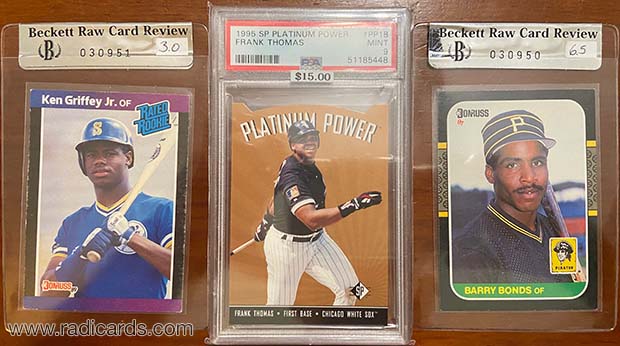 I'm still floored anyone would bother grading such a low grade 1989 Donruss Ken Griffey Jr. RC and yet, here we are. Ultra low grades have got to be a real kick in the pants but should come as no surprise to submitters. To me, they're hilarious.
Football:
I added just three football cards this time. Here they are.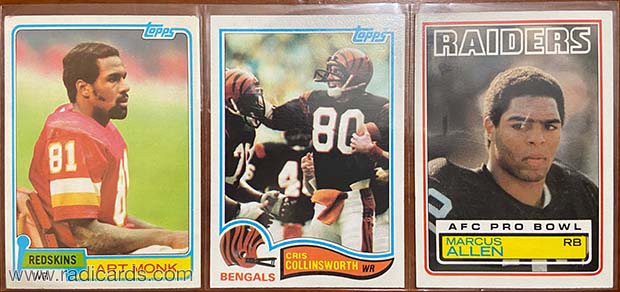 ---
In Conclusion:
What a great show. I just love hotel ballrooms. Every time I'm in one, card show or not, I think of card shows. This one was just perfect. It had all the elements of a classic show: carpet, ballroom lighting, tons of dealers and even more attendees. I enjoyed plenty of interactions with new and existing contacts and came out with some excellent pieces to add to my collection.