Have you visited our store? Click here.
LeBron James joins Mickey Mantle in the class of most expensive sports cards ever sold. On Monday, PWCC announced it sold this BGS 9 example of LeBron James' 2003-04 Exquisite Parallel /23 for $5.2 million, which was the price paid for a PSA 9 example of the 1952 Topps Mickey Mantle in mid January.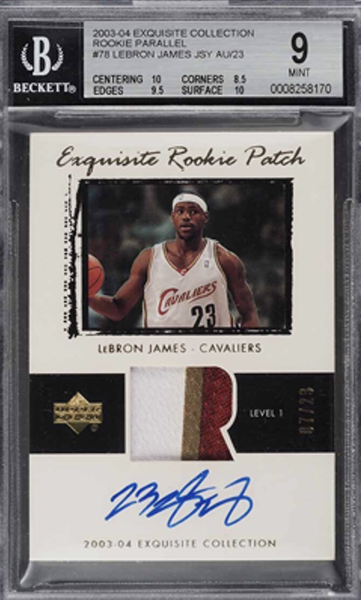 In July 2020, Goldin Auctions sold a BGS 9.5 example of this very card back for $1,845,000, a then record sale price for a basketball card. Here we are, just 9 months later and the sale of a lesser condition example (BGS 9) brings an appreciation value of over 181%.
Just 23 copies of this card exist making it one of the rarest LeBron James rookie cards that's not a 1/1. It's thought that many of the fortunate people who own examples of this rare parallel aren't eager to move them, which is why they bring such attention when one does. Future sales of this card are expected to continue to break records.
To see the current eBay auctions for the 2003-04 Exquisite LeBron James, click here.