Have you visited our store? Click here.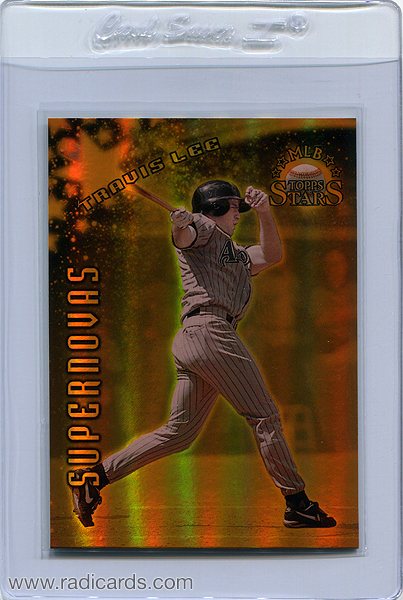 This friggin' card!
Man, if there was ever a heartbreaking situation from an eBay listing, this would be it. When I first saw the listing in summer 2015, I immediately saved it to my watch list. It was a BIN of $99.99 with Free Shipping. Since I had seen a Nomar Garciaparra Gold Rainbow from a related insert set from the same release fetch just north of $80 in fall of 2015, I had to think on the Lee for a while, a long while.
Every time I'd visit my watch list, I'd peruse it until I'd reach this listing and drool over the image. The high BIN price allowed me to drool any time I wanted because I knew it wouldn't sell for that price anyway. The listing would be there forever. This is the reason why I never bothered hitting the BIN on it. I would just enjoy the image whenever possible. I'd share a link to the auction with a select group of close friends who know I casually collect high end Travis Lee cards. I'd bring the card up in conversation occasionally then refer back to the image in the auction.
By 2016, I'd add it to my list of cards to buy and plan to grab it at some point down the line. I had spent a good chunk of the 2016-2017 year saving for my trip to the 2017 National Sports Collectors Convention. Given the high BIN price, I figured I'd toy with the idea of buying the card after I returned from the show. By this time, I had been enjoying the potential of owning this card for 2 solid years. The listing just sat there looking pretty.
When I got back from The National, I had another look at my eBay watch list and to my dismay, this card finally made its way to the Ended list. I was shocked. When I clicked on the listing, it had the dreaded phrase, "Bidding has ended on this item (SOLD)." I quickly sent the seller a message asking if it was truly gone. No reply. I was struck somber and kicking myself for not taking the listing more seriously. The reason being – there are only 5 copies of this card in existence. I could never possibly hope to ever see one of the other four examples. It's completely unrealistic.
From that point on, I decided not to let procrastination get in the way of adding an important card to the archive. Granted, the assumed and obvious financial limitations prevent this from being an absolute but it's certainly a behavior change in the right direction.
In August, a card I'd been following ardently since 2010 surfaced again and I made it a point to buy it even though credit was involved. Since the Lee option passed me by, I learned and applied my newly acquired lesson of seizing the opportunity when a revisit is a near if not complete impossibility. As a financially conscious buyer, this adjustment in buyer behavior wouldn't be a burden.
Over the months to follow, I'd continue to think about the Travis Lee card that got away. Sometimes it would bring me down. I still had regret for not acting more responsibly when it came to this card. The thought haunted me. When I was out running errands, working out, skateboarding, playing my guitar, I'd ponder over the missed opportunity to add this card. It really bothered me.
Then my luck changed.
One evening in early October, 2017 while conversing with a friend online, I ran a related eBay query and organized the results by highest price first. I do this when I wanna torture myself. Within just a very brief scroll, there it was again, the 1998 Topps Stars Supernovas Gold Rainbow Travis Lee with the exact serial numbering as the original listing. I couldn't believe it! Holy heck! I was shocked that I had another chance at this card.
Somehow the card made its way to Germany. The price format was BIN OBO at $149. I immediately placed an offer just one penny above its original list price. In the offer, I included a note informing the seller I'd followed this card for 2 years before it was sold in late July and that I'd love to pay the original price. My offer was accepted within the hour, which while I was really excited about led me to believe I could've possibly offered less and still won the card. Alas, this guy was on its way back to the United States. After a few sad months and thousands of miles, it's now safe and sound in my collection.
I consider this card to be the tangible form of a lesson in buyer behavior. Not only is it mythically elusive, it's a catalyst for personality change. The act of collecting just got a whole lot more interesting.
To see what's currently on eBay from 1998 Topps Stars, click here.