Have you visited our store? Click here.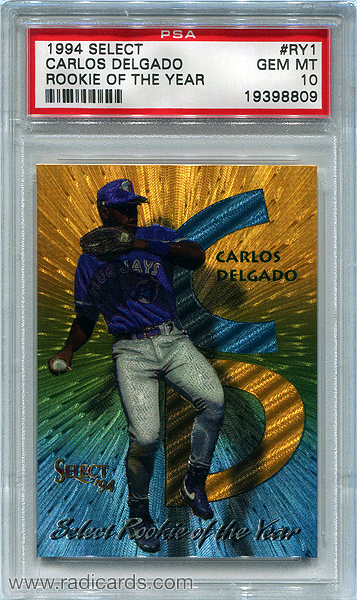 Here's another precious ROY inserts by the famous Select brand housed under the Pinnacle umbrella. This is the Carlos Delgado 1994 Select #RY1
 and features the same exuberant burst of dufex for which Pinnacle is known best. This particular example displays a fine gradient yellow to blue effect. The colors of the initials, C and D complement the background and stand out as intended. The deep blue color of Delgado's jersey present a pleasant added touch that helps define an attractive design any card collector can really appreciate. To top it off, this card features an outstanding action shot of this Blue Jays left fielder.
This card was seeded in packs of 1994 Select Series 2
at a rate of 1:360. Based on secondary market value at the time of this writing, boxes of 1994 Select Series 2 fetch on average around $15. With each box containing 24 packs each, you would have to open 15 boxes to pull this card. That action would cost you $225. Total value of this card at the time of this writing: $5!
Even in '94, there was never any mystery about how difficult this card was to obtain. There was also as little mystery about Delgado's talent on the field. Delgado was an impressive ball player. His stats stack up to: two AS; three SS; 2038 hits; and in his 17 years with the MLB, Delgado belted enough homers to put him just 27 shy of making the 500 club. These stats made Delgado a valuable player to the three teams for which he played during his tenure as a pro (even if he was only with the Marlins for a minute and a half in 2005).
If I can recall correctly, this card was worth quite a bit more at the time of its release than it is worth at the time of this writing. Strangely enough, it's still relatively difficult to acquire even with the implementation of online auction blocks such as eBay. It's cards like this that remind me why I am in this hobby. It's not for the money but for the simple and often nostalgic enjoyment of collecting.
To view the current eBay auctions for Carlos Delgado baseball cards, click here.