Have you visited our store? Click here.
Today I took another trip to Baseball Card Co. in Granada Hills, CA for another go at their Bid Board. As I've stated in a previous entry, the bids end at 3p every Saturday. I thought this week I'd share my enthusiasm with another collector, so I brought a friend. We arrived at the shop at around 130p to be the only patrons on the spot. I spent a few moments reviewing this week's candidates. I placed my bids and by 150p, we were out the door to grab some burritos while we waited until 3p. We made it back literally just in time to run from my car to the store to place final bids before the bell rang. Let's have a look at some of what I secured on this trip.
---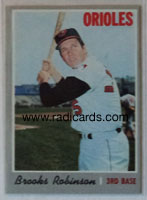 Brooks Robinson 1970 Topps #230
As you might know, I have been dabbling in vintage cards more recently. This card caught my eye because it's a very clean example. This is another card where every aspect is spot on… except centering. The centering on this card is extremely unpleasant but it does feature bright colors, and razor sharp corners and edges. While I don't feel that this card is gradable, I welcome it into my collection. I possess very few Brooks Robinson cards so this is a nice addition. Bid Board, $2.50
---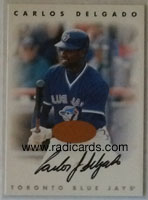 Carlos Delgado 1996 Leaf Signature Autographs #57 Bronze /3500
This set is special both to me as a collector and to the hobby as a whole. This set started the trend of featuring autographed cards from both the famous legends and the lesser known utility players of this era. It was the first time Tom Candiotti collectors could pull autographed cards of their player in packs. Random I know but the concept was pretty rad because it made autographs more available to collectors. This concept has more than infinitely worn out its welcome in this hobby but I still have fond memories from 1996 and this set is just one reason why. Bid Board, $2
---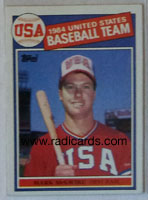 Mark McGwire 1985 Topps #401
1998 was a great year for the sport of baseball and hence, for the hobby. The McGwire-Sosa Home Run Race will forever live on as one of baseball's most exciting and re-invigorating events. It helped put butts in stadium seats and kids in sportscard shops. Both outcomes were great for business. During the race, this cards value increased to $250! I can remember acquiring my first copy of this card in Virginia in 1994. While I probably should have taken a dealer's advice in 1998 and sold my copy at the peak of this race, I just couldn't do it. The value of this card is nowhere near what it used to be but I still love it anyway. Bid Board, $3.75
---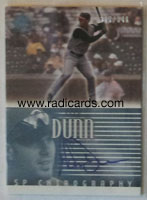 Adam Dunn 2002 SP Authentic Chirography #AD /348
Let's have a closer look at this guy.[1]Adam Dunn. www.baseball-reference.com
1999: Year first depicted on MLBPA-licensed baseball cards
2001: Major league debut
406: Total number of home runs posted to date
Adam is on track to hit the 500 home run mark within the next few years. Not a bad time to grab a nice auto while it's affordable. Bid Board, $7
---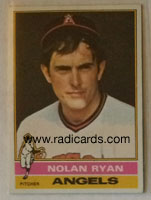 Nolan Ryan 1976 Topps #330
When I was 12-13 years old, I acquired a 1978 Topps Nolan Ryan. I was so excited to own a Nolan Ryan card from the '70's. I kept it in a top loader and batched it with my meager but growing collection of "nicer" cards. I've always been a fan of Nolan Ryan and was happy to add this example to the collection. Bid Board, $3.25
---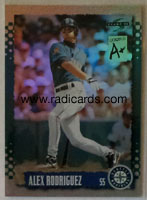 Alex Rodriguez 1995 Score Contest Redemption #AD1
I had never seen or known of this card's existence before 2/16/13, which is 18 years from product release until the time of this writing. I'm always thrilled to make new discoveries. This was a nice find. In hand this is a beautiful card as it depicts a refractor-like finish. This was a Bid Board find at just $1.
---
I am proud of these additions to the personal collection (PC). It's still very surprising to discover cards that had been publicly released in the '90's. Just when you think you've seen it all, you find something else. That's just one reason why I love this hobby.
Question of the day: What's your favorite card in this list and why?
To view the current eBay auctions for Nolan Ryan baseball cards, click here.