Have you visited our store? Click here.
As an advocate of the free market economy, I always appreciate the ability to sell something at a profit. It's what creates business, and helps stimulate employment and overall economic growth, which in turn promotes prosperity. I'll always support the notion that the act of making money is a good thing and should be embraced by everyone. But I'm also a realist.
This Jay Bruce 2005 Topps Chrome Update Superfractor has a print run of one. What this means is that if it's listed at auction with an opening bid of $0.99, the market will speak. If the card is relisted, the market will speak again, and again, etc.
This card has surfaced on eBay a total of four times since May 6, 2019. The first three listings were executed by the same seller and each resulted in closing bids.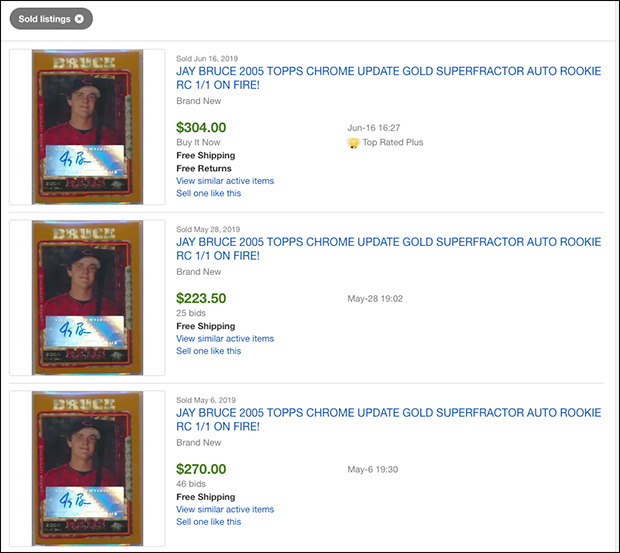 Take a look at those sale prices for a moment. The market is willing to spend between $223.50 and $304. Since each listing was executed by the same seller, it can be assumed that the first two listings from May were won by non-paying bidders, which is why we see a BIN in June for slightly more than the highest closing price of the first two auction style listings.
Based on bidder activity of the two auctions in May, we can feel at least partially confident in assuming that the closing prices of each of those two listings reflect actual market values. The average over the two listings in May comes to $246.75. Even with the BIN in June, the average is pushed to a still reasonable $265.83. That said, the card's current actual market value is around $250. Considering the status of the player, his popularity both in the sport and in the hobby, this price makes sense.
The third listing closed on June 16. As stated earlier, this card was listed a fourth time. The buyer at the BIN of $304 relisted the card on June 27 with a hostage-holding BIN/OBO that will never realize.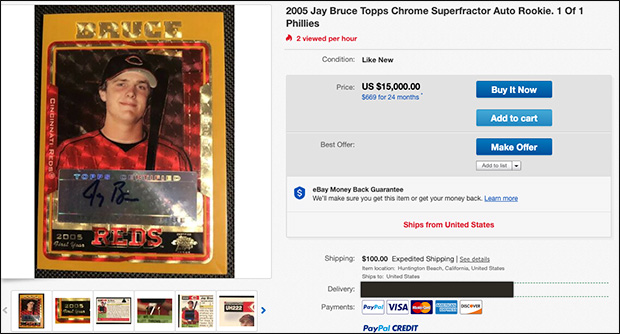 Just so that I'm clear, the market proves, not once but three times, that the card's current actual market value is around $250 and this new owner wants to turn a profit of 5900%???
If you're confused by this logic, consider yourself in the norm.
In my many years in market research, I've noticed the buy and resell strategy to be common, which is expected. However, sometimes I see behavior like this and the logic always reminds me that not everyone understands the basic concept of actual market value.
As stated above, I can respect one's desire to make a profit. But it behooves one to have realistic expectations. For example, maybe ask $400. A 60% profit is fair and reasonable. A 5900% profit is laughable and completely unrealistic.
So the question then becomes –
How do we take a seller seriously who runs listings like this?
This question comes with a simple answer – we can't.
One can put any price they want on anything they want to sell; it doesn't mean the item holds that value. Price and value are two different things. Take listing four for example. The price of the item is $15,000 but the value of the item is actually closer to $250.
This not only makes the seller look foolish, it presents a false pretense that hurts customer or collector knowledge, which is bad for the hobby. Not everyone will understand the difference between price and value. Those who see listing four without knowledge of listings 1-3 may think the market for Jay Bruce stuff is hot like fire, which is a lie. Sorry, Jay.
Resellers have opportunities to build healthy relationships with buyers. Smart buyers will respect the need for the seller to make a profit, which can promote further business if the reseller has the ability to locate specific items for the buyer. This can be especially valuable for busy professionals who don't have the time to hover over eBay listings all day. In which case, it makes sense to enlist help and compensate profitably for services provided.
By creating these kinds of relationships, resellers can help drive business and contribute to economic growth but they have to be willing to take themselves and their services seriously.
To be taken seriously, you must first take yourself seriously.
For the busy professional who happens to be a collector, and finds someone who can help them locate items and save time, there's a good chance they'll be happy to ensure the seller makes a profit. However, if that same collector finds someone who is only looking to gouge the market with outlandish and completely unrealistic expectations, it's unlikely that seller will capture market essence. Thankfully, the number of decent and honest people vastly outweighs those who are unethical and just out to shark the market. In that way, there's really no reason to bother with the latter.
To view the current eBay auctions for 2005 Topps Chrome Superfractors, click here.