Have you visited our store? Click here.
Saturday's are my one day out of the week that I am able to shop retail for baseball cards. This past Saturday, I went to Baseball Card Co. in Granada Hills, CA. I found this place via Google search a few weeks back and decided to head over. It's about 20 miles north of me but given the scarcity of card shops these days, I'm willing to drive a few more miles to see a new place. BCC is great because they entertain a selling format I very much enjoy… the bid board. No matter the size, I have always enjoyed the auction format. It's fun to see what shows up on the bid board on each visit, even if this was only my second time in the store. They have an entire wall the length of the store used specifically for bid board activity. It's segmented out by sport with the last fifth of the board allocated for more expensive cards from all sports. The auctions end at 3p every Saturday and the crowds start piling in at around 230p. I arrived at around that time to give my self a chance to view this weeks roster. It was strong. I placed a few very modest bids, and then it started to get interesting.
There was a very clean example of a 1970 Topps #21 Vida Blue RC. The edges, corners, surface gloss, and color were all very solid. The kicker was the centering. It must have been 90-10, which is terrible. Think 1979 Topps Ozzie Smith RC; it was that bad. I placed a $6 bid for this card, however, just because I respected the condition quality. I figured I could live with the centering on the card, at least until I found a better copy. When I was outbid by someone else at $7, I passed. $6 was my tops. Soon after the auction ended, however, the winner sold the card to another customer only to be prepped to be re-listed on the board for $10 the following week… go figure!
At any rate, I did win a few cards at some incredible prices. While I was there, I also did what I do best at card shops, go through the bargain bins. Here are some of the more notable additions:
---
Ron Santo 1973 Topps #115
This was a bid board find. When I saw this card, I about lost it. As I've gotten older, I've paid much closer attention to condition on vintage cards. You wouldn't think so by this scan but this card is in unbelievable condition. The edges, corners, surface, and color are all near perfect. The centering on this card is what's most impressive. 1973 Topps is plagued with crap centering. The only thing keeping this card from mint condition is a very small dimple down by the fielding silhouette in the lower right quadrant. I'm not sure if it's worth sending to PSA but it's definitely something to at least consider as this is a possible 8. Bid Board, $3
---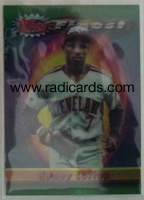 Kenny Lofton 1994 Finest #218 Refractor
Who doesn't love early '90's Finest Refractors? These cards are beautiful. The loony toons style backdrop on these cards combined with the refractor technology really makes these cards stand out. Four words: great color, great design. Bargain Bin: $0.10
---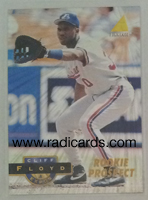 Cliff Floyd 1994 Pinnacle #392 Museum Collection
While 1993 was the year that Pinnacle introduced dufex technology to the hobby, 1994 was the year that Pinnacle added dufex technology to their base set. Decades later and these cards still look amazing. Bargain bin: $0.10
---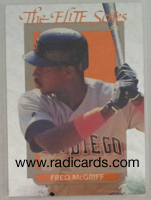 Fred McGriff 1993 Donruss Elite #19 /10,000
The Donruss Elite set speaks for itself. I have opened a lot of boxes of this stuff in my day and not once have I ever seen that beautiful holo-foil in any of those hundreds of packs. For a card that's serial numbered to 10,000, it leaves me wondering about the insertion ratio. If these cards were that difficult to pull, I can only imagine that in 1992, Donruss left the printing presses on day and night for the entire year. Bargain bin: $0.10
---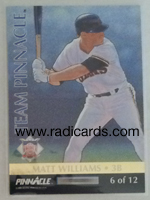 Robin Ventura / Matt Williams 1992 Pinnacle Team Pinnacle #6
This is another gem from 1992. I can remember when 1992 Pinnacle came out and first discovering the existence of this set. I also remember seeing values in the double digits for these cards in Beckett. I always wanted to pull one of these but never did. The artistry on these cards is very impressive. The players pictures are attractive illustrated renditions of action shots. Bargain bin: $0.10
---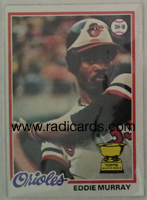 Eddie Murray 1978 Topps #36
If you have read Radicards® in the past, you might know that I am a huge fan of this card. This must be the 5th or 6th time that I have purchased it. The Topps version is much more abundant than the more scarce O-Pee-Chee version. I love the use of the All-Star Rookie trophy. I miss that. Topps, can you bring that back? Thanks. While this card struggles with poor centering, it's in pretty decent shape otherwise. Bid Board: $6
---
Question of the day: What's your favorite card in this list and why?
To view the current eBay auctions for Eddie Murray rookie cards, click here.