Have you visited our store? Click here.
Here's yet another error produced by Topps in 2022. This time the Spencer Strider 2022 Topps Gallery Yellow Printing Plate was issued with an identification sticker that should have been put on the Yellow Printing Plate for card #61, Frank Thomas. As a Frank Thomas collector, I watched this auction and actually wanted to add this card since it's so unique and a first appearance of its kind for me. However, funds are allocated elsewhere at this time so I decided to write about it instead.
This is the result of either human error or sheet misalignment, which also qualifies as the former. Sheet misalignment would imply that the wrong sticker thing is more wide spread in 2022 Topps Gallery. Since the Frank Thomas Yellow Printing Plate sticker was put on this Spencer Strider plate, it leaves me wondering if the Spencer Strider Yellow Printing Plate sticker was put on the Frank Thomas Yellow Printing Plate. And if that's not the case, things can get pretty hairy pretty fast and we could see other errors like this throughout the set.
On Saturday, November 5, 2022, a friend sent me the following images, which confirms the sticker-swap assumption.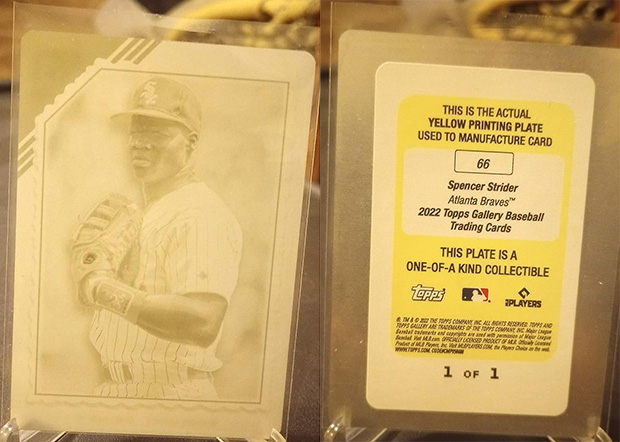 To see what's currently on eBay from 2022 Topps Gallery, click here.