Have you visited our store? Click here.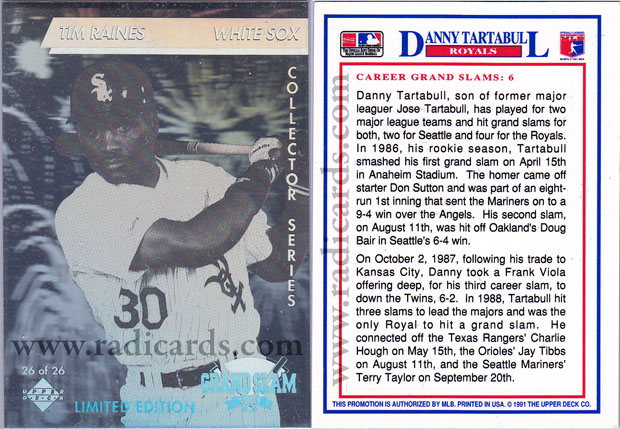 When I was much younger, I used to get pretty darn excited about going to Denny's and having my way with a delicious Grand Slam breakfast. The reasons are many. First of all, the pairing of eggs and bacon has always been a favorite. To top it off, this incredible meal came with free baseball cards! I couldn't believe how excellent this was! From a business standpoint, this promotion catered to a younger segment of the market. It kept me coming back for more. I can't generalize my experience and market behavior with any degree of certainty but I will say this, even now, many years later, whenever I think of Denny's or see their logo, I think of these 1991 Denny's Holograms
. You might say Denny's connected with me on an emotional level during a time when my mind was still somewhat mailable in the growth and maturity process of my youth. An emotional connection is exactly the type of factor that keeps customers coming back and increases the probability of gaining, maintaining and strengthening customer loyalty.
So why did Denny's discontinue this effort in the late '90's? Why did this smart promotion last only a few years? My only assumption for this divestment is cost. It's not cost effective to give away free product. I'm assuming here that these baseball cards weren't free on Denny's end. From what I know, Upper Deck produced these cards in the beginning then later, the process was maintained under the Pinnacle brand. Both of these companies are known for their high quality and innovative technologies. That said, surely, there was some amount of cost associated with a Denny's acquisition. When you buy anything and give it away for free, you lose twice. You lose the money and you lose the product. It's not a profitable business model. However, for the few years that this took place, there were surely some mighty elated kids walking out of Denny's. I know this because I was one of them. Although times have changed, it was fun while it lasted.
To see what's currently on eBay from 1991 Denny's Holograms, click here.