Have you visited our store? Click here.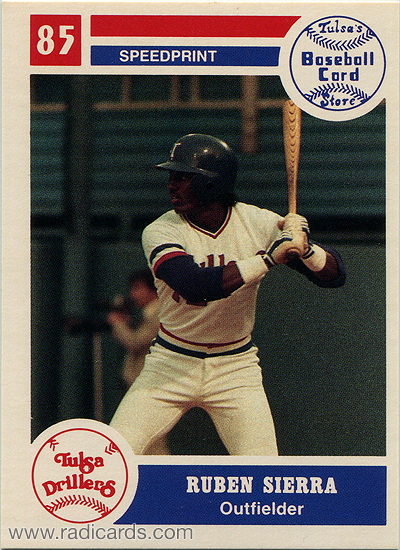 This is a 1985 Tulsa Drillers Team Issue Ruben Sierra. It was discovered in a bargain bin at a show years ago. It's old, it's really off center, and it's 1980s minor league baseball – just the way I like it. Much like a lot of 1980s minor league issues, this one was released within a set. One had to buy the set to acquire this card. I've never been much of a collector of complete sets because I'm usually only after one card and I generally don't have any use for all the others. A friend once made a good point. He said a great way to enjoy commons is to use them for Through The Mail (TTM) autographs. I think that's a nice idea.
Ruben Sierra was an exciting performer during his first 7 years as a professional ball player with the Texas Rangers. He is an All-Star. As his career developed over his 20-year professional tenure, however, his performance naturally declined and he was traded all about the league until his final year in 2006.
I'd imagine that at one point, this particular minor league example of Sierra drew significant attention. At one point his 1987 Fleer rookie card was a big deal. This being pre-rookie status, life would have been good for investors, at least for a time. Prior to my acquisition of this card, I didn't even know it existed. Then again, I don't collect Ruben Sierra to any degree so I'd have no reason to know that.
I really like cards like this though. Minor league examples of guys who once garnered significant hobby interest. I can remember the brief Sierra hype during my first few years as a collector. I still have a variety of his rookies and this 1985 Tulsa Drillers card makes a nice addition to that little short stack.
What do you remember about the Sierra hype from the late 1980s?
To view the current eBay auctions for Ruben Sierra baseball cards, click here.