Have you visited our store? Click here.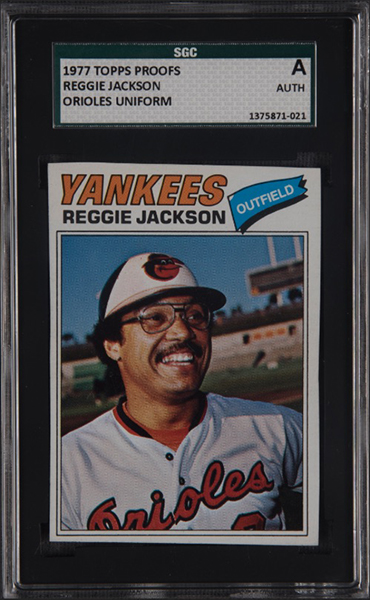 Sold: October 19, 2019
# of Bids: 5
Final Price: $27,060
This is the immensely coveted and impossibly rare unissued blank back 1977 Topps Reggie Jackson card that depicts him in a Baltimore Orioles uniform.
Reggie Jackson was traded from the Oakland Athletics to the Baltimore Orioles in April of 1976 and appeared in 134 games with the franchise that year. Topps initially planned to produce the 1977 issue depicting Reggie Jackson in a Baltimore Orioles uniform. However, Reggie Jackson signed with the New York Yankees as a free agent late in the 1976 season. Topps responded by doing a quick image swap to feature Reggie Jackson wearing a New York Yankees uniform on the issued 1977 Topps card.
This noticeably hand-cut proof version of the 1977 Topps card depicts Reggie Jackson on the Baltimore Orioles. To date, it's the only specimen authenticated by SGC and it's speculated that the number of proofs doesn't exceed a single digit quantity.
To see the current eBay auctions for the 1977 Topps Reggie Jackson, click here.