Have you visited our store? Click here.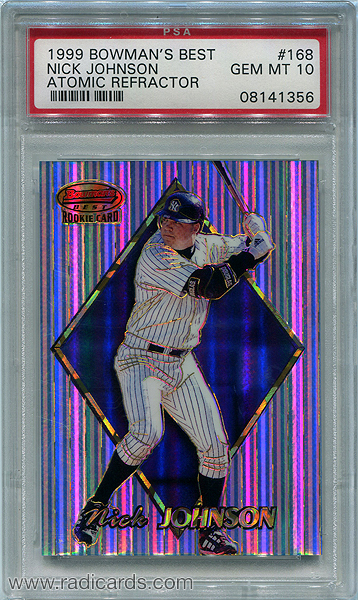 I was about a year removed from the hobby by the time this kid dropped onto the seen, and as such, I also missed 1999 Bowman's Best Baseball
entirely. It wasn't until I dove head first back into the hobby in '03 that I first encountered these 1999 Bowman's Best Atomic Refractors and in doing so, discovered that Nick Johnson shared real estate on a baseball card with Frank Thomas. The card that audaciously showcased this combo was in the 1999 Bowman's Best Mirror Image set. It was just two years prior that Travis Lee shared a card with Frank Thomas in the same set from 1997. If there's anything more difficult than general predictions, it's baseball predictions.
It's very difficult to tell how well a candidate will perform when released into the wild. Even after the player is at the top of his game in college, once he enters the show, he's just like everyone else, the best at their respective college. So really, you have to be a 1 in a million elite talent just to be noticeable, not to mention, confident and competitive. You have to be even better than that to make an impact on the game and more, even better to last. There have been countless #1 Draft Picks that, within just 3-6 years are reduced to utility, sent down, or even cut entirely. While metrics help, it's really difficult to accurately predict the quality of the outcome with the big leagues.
With a little research, you'll find that after 10 years in the big leagues, Nick's stats amounted to .268 AVG, 723 Hits, and 95 Home Runs.1 Baseball is hard. I can't even imagine how difficult it is to be competitive at the professional level. My only question is, why was this kid featured on a baseball card with Frank Thomas and with the association of Mirror Image? It's just too much of a stretch to compare rookie hopeful talent to raw, proven talent. I find this very difficult to do with any degree of accuracy.
I don't want this to be some whine fest about a player that didn't actually mirror image another player. My point here is that predictions are difficult to do regardless of what measure we use. The facts are that we really have no exact way of knowing what's going to happen in the future.
I digress. Going back to it, if I'm going to have a rookie card of Mr. Nick Johnson, accurate predictions or not, the 1999 Bowman's Best Atomic Refractor
is a pretty darn good choice.
To view the current eBay auctions for 1999 Bowman's Best Atomic Refractor
s, click here.
References:
Nick Johnson. www.baseball-reference.com ↩︎