Have you visited our store? Click here.
Note: We don't place any blame on PSA. We're human; mistakes happen. Ultimately, the blame should fall on the grader and perhaps the hiring manger.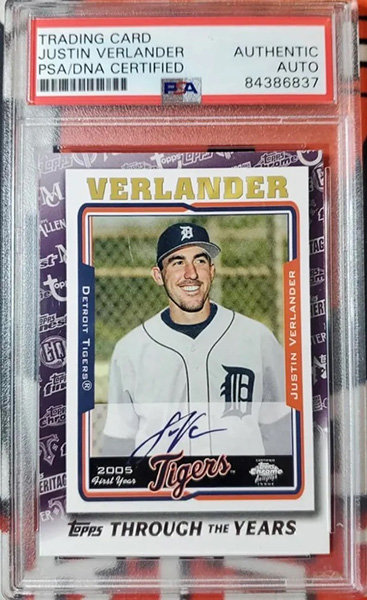 2021 Topps Through the Years is a 30-card set that features images of popular veteran and rookie Topps cards framed in a commemorative border. Many of the original examples of the cards feature autographs, which by design makes them facsimiles in this commemorative set.
Graders aren't perfect; that's understandable and expected, which in a way is part of what makes the hobby so fun and entertaining. Obviously, this Justin Verlander 2021 Topps Through the Years card shouldn't have been authenticated but that is was makes it unique albeit hilarious.
The existence of this card poses a question:
If you had this card, would you leave it slabbed or have it re-graded?
To see what's currently on eBay from 2021 Topps Through the Years, click here.