Have you visited our store? Click here.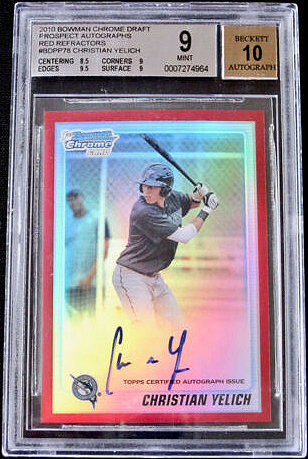 Christian Yelich, the 2018 National League MVP, brings serious attention to the collectors market. While his first official year in MLB was 2013, collectors love those 1st Bowman cards and the 2010 Bowman Chrome Draft Prospects card is certainly one to chase.
Base examples can be had for just a few bucks but if you've got deeper pockets, we're talking small chasms, you can have a chance at one of the more elusive parallels. No matter the style, they're all selling extremely well. Here are the stats on this Christian Yelich 2010 Bowman Chrome Draft Prospects Red Refractor AU /5:
Sold: May 5, 2019
View Count: 1,027
# of Watchers[1]273824443956. www.watchcount.com: 105
# of Bids: 34
Final Price: $12,188
To see what's currently on eBay from 2010 Bowman Chrome, click here.