Have you visited our store? Click here.
Okay okay, I know what you're thinking, Patrick is finally going to discuss the topic of substance abuse. Well, I hate to disappoint here but the term, hammered? is actually used in reference to card condition, not the hard stuff. Yesterday, I drove out to Tarzana, which is about 15 miles north of me, to visit Valley Sports Cards. I haven't been to this shop in a while, so I figured I would cruise over to see what I could dig up. I knew exactly where to go as soon as I walked into the store, the bargain boxes. Prices anywhere from $0.10-3. I purchased a 1987 Donruss Rookies Set
for $3. The box is kinda banged up but I thought it would make a nice filler set until I find one in much better shape. I really like this set because it features some great players such as: G.Maddux, M.McGwire, B.Ripken, D.Cone, M.Williams, F.McGriff, and B.Jackson. I also found a 1995 Stadium Club 1st Day Issue parallel of Mike Piazza at $1. Additionally, I found some vintage examples with a ton of personality. Let's have a closer look.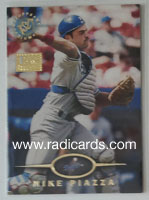 Mike Piazza 1995 Stadium Club #149 1st Day Issue
The FDI stamp on the 1994 versions is holo-foil, while the FDI stamp on the 1995 versions is flat gold. While not as exciting as the 1994 counterpart, 1995 Stadium Club First Day Issue parallels were still very tough cards to pull. Even today, I don't see them very frequently. Bargain bin $1
---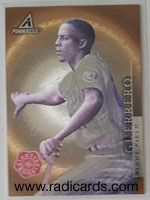 Vladimir Guerrero 1998 Pinnacle #PP55 Artist's Proof
Just look at that beautiful, vibrant, unmatched dufex technology. I really like this example because the red Artist's Proof logo really pops out of the gradient background. Every time I see these cards, I'm shocked by the design. Originally priced at $3, talked down to $1
---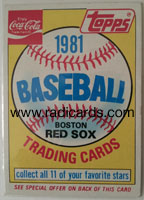 1981 Topps Coca Cola Red Sox Header
These are pretty cool. Back in 1981, Topps partnered with Coke. A limited number of teams could be found in set form with the Coke stamp on the upper corner of the cards. These were parallels to the base Topps set with the Coke stamp being the only differentiator. Each set contained a header card. This particular example accompanied the Red Sox set. Bargain bin $0.10
---
Denis Menke 1971 Topps #130
Miscut
It's funny how things happen. If I were a novice collector, I would be easily deceived by this card. I would have no reason to think that that wasn't Elliott Maddox depicted on this card. While I am aware miscuts are strongly discouraged in the manufacturing process, they happen but rarely to this degree. Bargain bin $0.10
---
Phil Niekro 1979 O-Pee-Chee #313
While digging through the bargain boxes, I found a pile of the Topps version of this card. There must have been 10-15. In that pile was one O-Pee-Chee version. I eventually found another but with worse centering so I selected the better of the two, which is what you see here. Look at that old-school Atlanta Braves cap! Bargain bin $0.10
---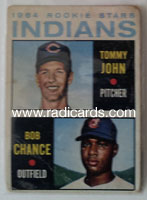 Tommy John / Bob Chance 1964 Topps #146
This is Tommy John's rookie card. I purchased a signed copy of this card at the 2012 National Convention. Tommy John has a surgery named after him where a ligament in the elbow is replaced by a tendon from elsewhere in the body. The procedure was first performed in 1974. Tommy John surgery is common among athletes, especially pitchers. Bargain bin $1
---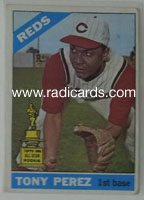 Tony Perez 1966 Topps #72
I really like this card because it features the old All-Star Rookie trophy. That and it's a great shot of a young Tony Perez. 1966 Topps was a great design. I like the bright colors. While Topps Heritage is re-releasing these designs, I will always be partial to the originals. Bargain bin $1
---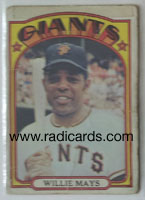 Willie Mays 1972 Topps #49
While this is my third copy of this card, I think it's my favorite. Vintage baseball cards, like anything else, come in a variety of conditions. This particular example comes with lots of personality. There is a strip of tape along the top edge of this card, which presents a possible story. Someone must have at one point taped this card up to a poster board or wall. This card is creased in several places, which means that it has been in some interesting environments. Maybe this card was put into someone's pocket, or wallet. This card has been touched by many hands, mine being the final set. Bargain bin $3
---
I'm very happy that I found these cards. With a variety of conditions, it's interesting to compare possible stories of each version.
Question of the day: Have you ever seen a 1981 Topps Coke Red Sox Carlton Fisk?
To view the current eBay auctions for Willie Mays baseball cards, click here.