Have you visited our store? Click here.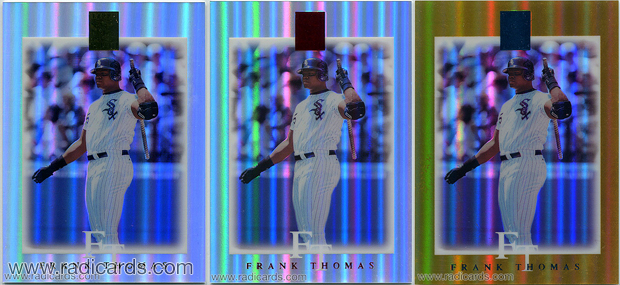 2003 Topps Tribute Contemporary baseball cards came out the same year and near the same time I got back into the hobby after a 5-year hiatus. In a way, summer of 2003 was a milestone moment in my life. It was a troubling time for me and baseball cards were the one thing that kept me calm. In a lot of ways, baseball cards are life savers. I know how strange that sounds but sometimes we have to revisit our roots to find peace in our present. For me, the roots are the constant, always there helping me find peace.
When I came back to the hobby in the summer of 2003, I revisited the local card shop I used to frequent as a kid. They were still selling sports cards. I had a look at what they had and, of course, I went through every single Frank Thomas card I could find in the store. I bought whatever I didn't have, which was most of it. I had a pretty decent single 3-inch binder at the time that was specifically reserved for my Frank Thomas collection, which hadn't made any progress since 1998. So I proceeded to fill it with the cards I picked up at the shop. It wasn't long before I needed a second binder.
During that visit to the card shop in summer of 2003, I watched a guy open pack after pack, box after box of 2003 Topps Retired Signature. This was a new experience for me and I envied the customer's buying power as he opened all of those packs. It was excited just to see what he pulled out of those packs even if I wasn't going to buy anything from him assuming, of course, I even had the chance.
Anyway, in a small way, 2003 Topps Tribute Contemporary reminds me of that summer and that one memory. I'm not sure why since both products only share the flagship brand name. The Tribute release is an interesting and striking one. For one, the vibrant holofoil finish is absolutely stunning. Something I really like about the 2003 release is that there are only 3 parallels to chase. As with many high-end Topps sets, this one features a small number of cards. The 2003 Topps Tribute Contemporary set is made up of just 110 cards. The small number lends itself to exclusively featuring superstar talent. Upon initial release in August of 2003, these were $50/pack. This per-pack price point would only increase with future Topps Tribute releases. I can remember a $60/pack price point for the 2010 Topps Tribute release.
Often, but not always the case, high cost is coupled with high quality. This would, in fact, be one of those cases. These card are of superior quality and feature a beautiful design. If you're looking to pull together a 3-card run of a single player in the set, here's what to expect:
Base: These feature an holo-foil finish with gold foil print.
Red: These feature an holo-foil finish with red foil print, and a stated print run of 225 copies.
Gold: These feature a gold holo-foil finish with light blue foil print, and a stated print run of just 25 copies.
Each of these cards is stunning in-hand. Again, I like the simplicity shown here. It's not too much and not too little. 3 different cards present somewhat of a manageable challenge to pull together. Gold parallels for superstars have proven to be difficult to find as many of them are ending up in private collections. As with many high-end parallels, I can only assume the difficulty associated with tracking these down will only increase as the set continues to age.
If you're looking to enjoy a classic set with a beautiful design and some excellent parallels, try a box of 2003 Topps Tribute Contemporary Baseball.
To see what's currently on eBay from 2003 Topps Tribute Contemporary, click here.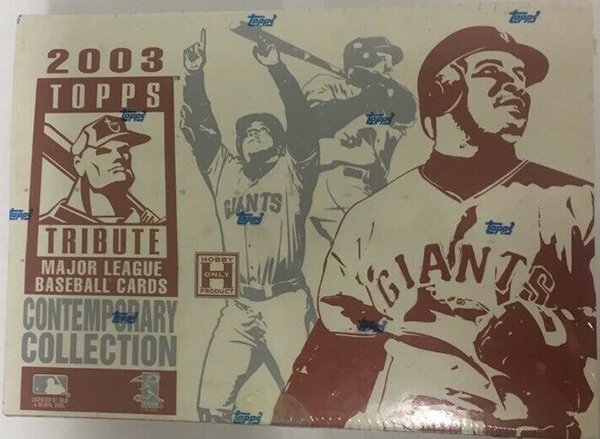 ---
Set Information:
| Important Date(s) | |
| --- | --- |
| August 2003 | Release Date |
| August 31, 2005 | Exchange Deadline |
2003 Topps Tribute Contemporary
2003 Topps Tribute Contemporary is a 110-card set issued in 5-card packs with an SRP of $50.00 and came 6 packs per box and 4 boxes per case. Jose Contreras didn't return his cards in time to be included in the 10 signed rookie card run at the end of the set (101-110). The gold parallel card of Jose Contreras (#101) was issued in packs as an exchange card.
Set
Total Cards
Print Run(s)
Odds
Base
110
1-100 /-
101-110 /499
1-100: 5:1
101-110: 1:7
Red
110
1-100 /225
101-110 /99
–
Gold
110
25
–
Bonds Tribute 40-40 Club Relics
1
–
–
Bonds Tribute 40-40 Club Relics Red
1
50
–
Bonds Tribute 40-40 Club Relics Gold
1
1
–
Bonds Tribute 600 HR Club Relics
4
–
–
Bonds Tribute 600 HR Club Relics Red
4
50
–
Bonds Tribute 600 HR Club Relics Gold
4
1
–
Bonds Tribute 600 HR Club Double Relics
3
–
–
Bonds Tribute 600 HR Club Double Relics Red
3
50
–
Bonds Tribute 600 HR Club Double Relics Gold
3
1
–
Bonds Tribute 600 HR Club Quad Relics
1
50
–
Bonds Tribute 600 HR Club Quad Relics Red
1
25
–
Bonds Tribute 600 HR Club Quad Relics Gold
1
1
–
Bonds Tribute Relics
3
–
–
Bonds Tribute Relics Red
3
50
–
Bonds Tribute Relics Gold
3
1
–
Matching Marks Dual Relics
13
–
–
Matching Marks Dual Relics Red
13
50
–
Matching Marks Dual Relics Gold
13
1
–
Memorable Materials Relics
19
–
–
Memorable Materials Relics Red
19
50
–
Memorable Materials Relics Gold
19
1
–
Milestone Materials Relics
35
–
–
Milestone Materials Relics Red
35
50
–
Milestone Materials Relics Gold
35
1
–
Modern Marks Autographs
9
–
1:19
Modern Marks Autographs Red
9
99
–
Modern Marks Autographs Gold
9
25
–
Perennial All-Star Relics
22
–
–
Perennial All-Star Relics Red
22
50
–
Perennial All-Star Relics Gold
22
1
–
Performance Double Relics
14
–
–
Performance Double Relics Red
14
50
–
Performance Double Relics Gold
14
1
–
Performance Triple Relics
5
–
–
Performance Triple Relics Red
5
50
–
Performance Triple Relics Gold
5
1
–
Team Double Relics
6
–
–
Team Double Relics Red
6
50
–
Team Double Relics Gold
6
1
–
Team Triple Relics
14
–
–
Team Triple Relics Red
14
50
–
Team Triple Relics Gold
14
1
–
Tribute to the Stars Dual Relics
25
–
–
Tribute to the Stars Dual Relics Red
25
50
–
Tribute to the Stars Dual Relics Gold
25
1
–
Tribute to the Stars Patchworks Dual Relics
20
50
1:34
World Series Relics
2
–
–
World Series Relics Red
2
50
–
World Series Relics Gold
2
1
–
World Series Double Relics
7
–
–
World Series Double Relics Red
7
50
–
World Series Double Relics Gold
7
1
–
World Series Triple Relics
2
–
–
World Series Triple Relics Red
2
50
–
World Series Triple Relics Gold
2
1
–
2003 Topps Tribute Contemporary