Have you visited our store? Click here.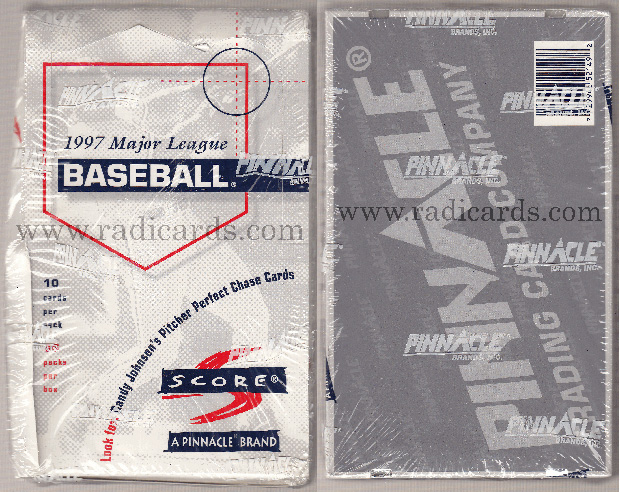 So I spent the past 10 days or so migrating, integrating and updating my blog. I'm 90% finished with the overall updating process but I'm comfortable enough to get back to posting. While I was away at work with my blog this week I gave myself some time to scope out the local market in search of some blog-worthy content. So there I was, lookin' around, and I happen to stumble upon some classic 1990s wax boxes. As soon as I saw them I had to have them and the price was right so I pulled the trigger. Let's rewind to a time when Pinnacle owned a good portion of the market in the hobby. The year was 1997. The product, Score Series 1. If you look closely at the picture above you'll see Frank Thomas depicted on the cover of this box. Yea, he was that huge in the 1990s!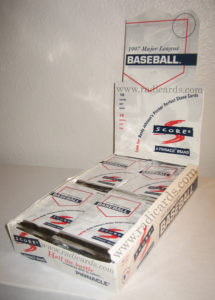 1997 Score
is considered by some collectors to be the definitive mystery of the 1990s. There is so much back story behind this product that I'm still making new discoveries regarding '97 Score's contents today. There are a lot of insert variations, some with reasonable stated odds i.e., 1:12 packs. But you know what, in the 13 years since this product hit the market, only once have I ever seen a Reserve Collection parallel but yet to see one in person! According to Beckett, the Thomas Reserve Collection parallel is worth just $6; yea right! The last and only one I've ever seen hit the market went for just shy of $40! Another mysterious and somewhat mythical insert parallel is the Stand and Deliver Gold parallel to the Silver base pack inserts. To my knowledge, these S&D Golds were offered via a redemption program so they weren't in fact ever inserted into packs. Just another mystery whose origin I'm still trying to wrap my head around. These Gold S&D's are so scarce and unknown that they aren't even recognized by Beckett. I just recently discovered their existence in 2008, 11 years after their release! As we can see so far, 1997 Score is a bit of an enigma. Since I didn't pull either a Reserve or an S&D Silver in this particular box, I won't be able to show you how beautiful these cards really are. I did however pull a few other gems that we'll discuss here in a bit.
1997 Score Series 1 pack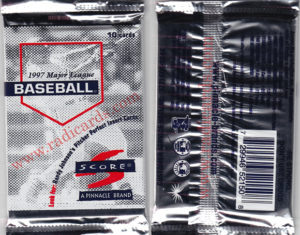 Breakdown:
A box of 1997 Score contains 36 packs, each containing 10 cards for a gross total yield of 360 cards (on average). I only say this because my box actually contained only 359 cards. The set consists of 330 cards. The breakdown is as follows:
264/330 cards: % of set complete = 80%
Doubles = 85
Inserts: 10 (Showcase Series x5; Showcase Series Artist's Proof x1; Pitcher Perfect; x2; Titanic Taters x1; The Franchise x1)
It was fun pulling the cards apart upon opening each pack. This box has been through a bit of a beating through the course of the past 13 years as some of the cards corners were damaged. The Showcase Series Artist's Proof card that I pulled has a nice bent corner. Although I should be upset by this little mishap, I accept that these little facts are all part of the fun of busting vintage wax. It's so funny that the label vintage is applicable here. 1997 was such a good year for baseball cards. Flair Showcase started releasing the first ever 1/1's, Travis Lee was the hot rookie and everyone was chasing Mark McGwire and Sammy Sosa rookie cards. It was a different but exciting time for the hobby.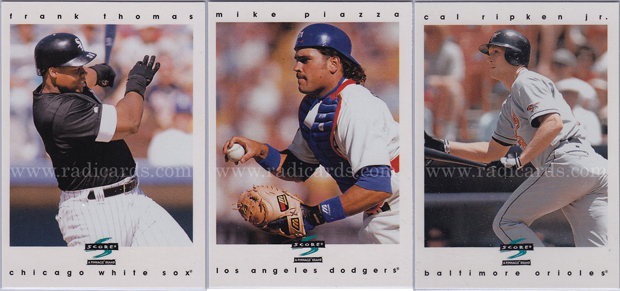 1997 Score has a simple, yet formal base design. The white glossy card stock adds a nice touch. To some degree, white card stock represents the essence of score. It is often what set it apart from competing brands. From it's inception in '88, Score has always produced classic base designs. This one in particular is cut and dry with no b.s., just the player, the team and the brand. Sometimes (most of the time), less is more. As we'll see, the parallels are tiered out in a similar way. They all stay true to the simple but quality aspect of this release. Let's have a look at the level 2 parallel, the 1997 Score Showcase Series
.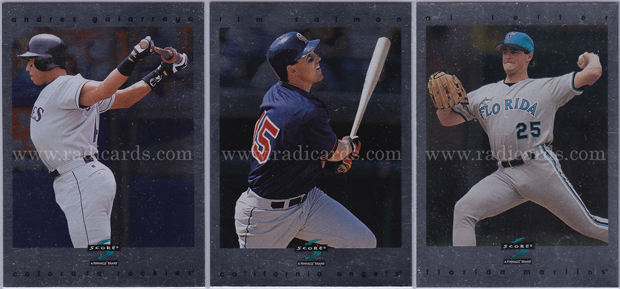 Due to the foil layer, these cards are difficult to scan. Okay, not difficult to scan but difficult for the scan to do these cards justice. These really are nice foil inserts. They aren't too terribly different from the base set other than that they were produced with a foil layer. Again, a very simple design. The Showcase Series hold an 8x base multiplier.
Related article: 1997 Score Stand & Deliver Baseball Cards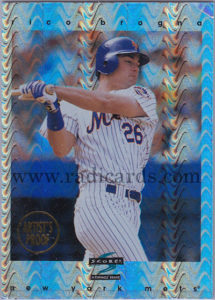 To the right, please find an example of likely one of my favorite parallel designs to come out of the '90's. This is the level 3 parallel of the base set and is appropriately titled, 1997 Score Showcase Series Artist's Proof
. I just love the way these look in person. Although the scan came out beautifully, you have to see these live to really appreciate them. I'm comfortable enough to go as far as to say that these SSAPs will blow your mind! Just look at the card for a moment. Those beautiful blue waves remind me of the ocean and I've always loved the AP logo at the lower left quadrant. Anyone who collects baseball cards should secure an SSAP of their favorite player from this set. These cards are dope! The Showcase Series Artist's Proof cards hold a 25x base multiplier.
Up to this point, we've discussed the base set and it's respectable parallels. This box also contained some excellent inserts as well (excellent in terms of '90's stuff, likely gone for the most part, forgotten by today's standard). When Pinnacle owned Score, they really had an open mind. That's only one of the many reason's why I have massive respect for this brand. They didn't care about trends or what the competitors were doing. All they cared about was producing sports trading cards of superior quality. Additionally, they created some very interesting and innovative packaging methods which I'm sure I'll cover at some point.
I pulled the following inserts from this box:

Where to start. I mean, the Ripken/A-Rod card is likely the best card in the box! The Pitcher Perfect Ripken/ARod card depicts what really goes on in the dugout mid game. It's important to brush up on some quality academic literature when you're passin' time in the dug. When you're that good at playing the game, you're best warm up is a mental sweat from kryptonite. I also pulled a Titanic Taters of Juan Gonzalez. What's with his facial expression in this picture? Ha! Kinda cracks me up really. He's a goofy lookin' dood in this picture. The Titanic Taters provide another example of elegant foil design, not my favorite but I'll take it. Lastly, I pulled a glowing Franchise of my guy Frank Thomas! This was a super rad pull because it wasn't 5 months ago that I bought this card off eBay. I didn't have this version of this card until just recently. This is the level 2 parallel of the base non-glowing Franchise. These glowing Franchise cards are fun but definitely a '90's thing, they literally glow in the dark. To my knowledge, this technology was used on one other release from 1997 but was nixed for all other products from that time onward. I'm not sure why it wasn't used again, maybe it wasn't received well by the market or it wasn't cost effective. Either way, I miss this type of thing.
Availability:
To be quite honest, I don't see this stuff available anymore. A part of me feels that the reasons are somewhat the result of overshadowing from modern product and sales objectives. This stuff is harder to move than modern product. Additionally, some collectors still maintain that this falls in the category of so called, junk wax. This phrase is often used in reference to anything released during the over-saturation era. Whatever the case, this was a solid product that yielded lots of rare inserts. Collecting should be fun, plain and simple. Don't expect to pay your kid's Harvard tuition with this stuff but that shouldn't be the point. I could have spent my $8 on a cheese burger but instead I spent it on a great box of 90's wax. On top of that, it gave me a chance to remember what my life was like in 1997. I was just starting to learn how to Ollie on my skateboard. I wore shorts a lot. I used to roll up the bottoms of my pants not knowing that Capri's would soon become very popular. I drank a lot of chocolate milk and I bought cards of Travis Lee, Jaret Wright and of course Frank Thomas. I didn't, however, until just today, open any '97 Score.
Conclusion:
So there you have it. 1997 Score holds some interesting gems. I enjoyed the feel and smell of the white card stock. I also had a good time pulling the cards apart upon rescuing them from their 13 year old housing. Looking back, I never bought any packs of this stuff back in 1997. I was too busy buying singles at card shows and hobby shops. I opened some wax but the percentage is very small in comparison to the amount of singles I've haggled for over the years. For all of $8, this box was suitable entertainment and justifies my being somewhat cliché in saying it was truly a blast from the past.
With a classic base design and a nice set of parallels of varying levels, this product offers nice variety. Additionally, as we have discussed, the inserts are abundant but not over-saturated. There's some humor in the mix which again enhances the product and leaves it open to emotional interaction. The set is loaded with a superstar roster. That, paired with a nice run of rookies, makes this a solid product. Again, the fun comes in the form of the 1997 Score Showcase Series Artist's Proof
. My recommendation to you is to do some research this week and see if you can secure one of these gems for yourself. They are gorgeous! As I've said before, there is a lot of mystery behind 1997 Score so don't be surprised if you find something you never knew existed because there's a lot you'll learn about the pool when you jump in the water.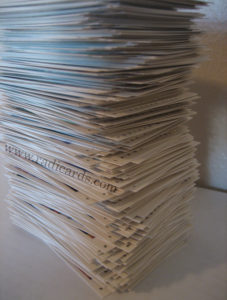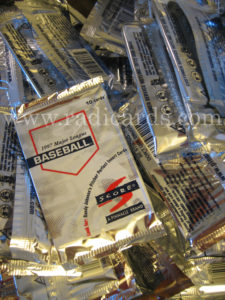 To see what's currently on eBay from 1997 Score, click here.