Have you visited our store? Click here.
A visitor sent us the following message:
Greetings, I am a collector of catcher Ivan Rodriguez Torres. I have discovered in my card collection that I had the MYSTERIOUS 1997 Pinnacle Certified Mirror Black #79 card from the set and I have had almost no information on this almost never mentioned card, I would love for you to talk or perform a report of said card so important and without any explanation or information, I understand that it is extremely scarce thanks for your attention.
-Sam De La Torre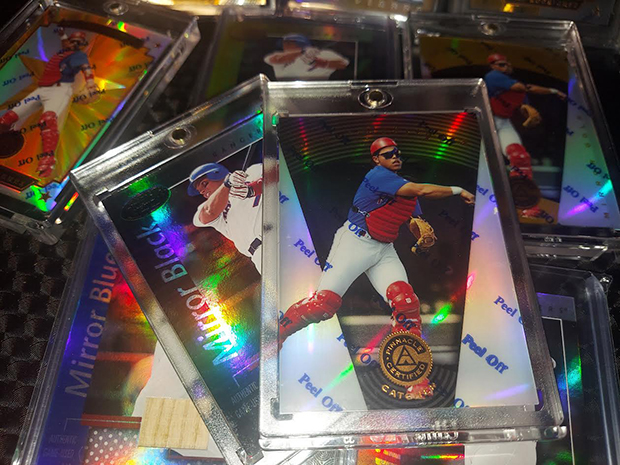 In 1997, Pinnacle entered the ultra premium market with sets like 1997 Pinnacle Certified. This 150-card set came with a series or Mirror parallels – Red, Blue, and Gold – which were publicly announced. However, one variety was left off, the mythical Mirror Black parallel.
1997 Pinnacle Certified Mirror Black parallels represent some of the rarest cards of the 1990s.
1997 Pinnacle Certified Mirror Black parallels were released sparsely and with no indication that all 150 cards were even made. It's believed they were produced as a test run and inserted into packs by mistake.
It's worth noting here that it was common during this time for products to be backdoored. This happens when products in pre-final stages are taken from production rooms without permission and sold on the secondary market. That said and while I can't confirm this with any degree of certainty, for 1997 Pinnacle Certified Mirror Black parallels, release could've been made possible through a combination of pack-outs and backdoored.
These cards give off a brilliant green reflective shine when placed under a light source.
Due to their scarcity, 1997 Pinnacle Certified Mirror Black parallels are difficult to value but worth as much as collectors are willing to pay for them.
To see what's currently on eBay from 1997 Pinnacle Certified, click here.