Have you visited our store? Click here.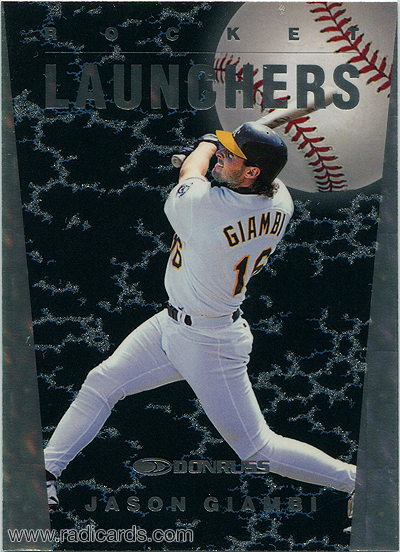 It's too bad my scanner didn't pick up more of the design quality here. The 1997 Donruss Rocket Launchers are such excellent cards in person. The gray that you see there is actually this really cool multi-colored foil that produces a textured foil effect when manipulated with a light source. This set is easily mistaken to have been released in 1996, as is stated on the bottom edge of the back of the card. This 15-card set holds a print run of 5000 and features key hitters of the era. These were randomly inserted into series 1 magazine packs.
The design is striking, no pun intended. The lightning-like depiction on the background with the cartoonish baseball in the upper corner presents a whimsical showcase of intrigue. In a way, it's simple with a touch of complexity. I often find these cards in bargain bins. They aren't terribly difficult to find but I'd imagine that many collector aren't looking for them anyway. In my experience, this set is another one of those that's often forgotten or looked-over. I say this because I've only ever paid trivial amounts for singles from this set. This can probably be chalked up to a comfortable combination of abundant availability and the fact that these were released during a time when there was a flurry of similar sets being released. I can't even count how many sets produced in the 1990s that hold a print run of 5000. There are so many; it's overwhelming. Alas, this set garners minimal marquee value in the hobby. But, that doesn't mean it's any less interesting or fun for that matter. I like these cards; maybe you will too.
Of the two Giambi's, which do you think was the most entertaining to watch?
To see what's currently on eBay from 1997 Donruss Rocket Launchers, click here.
---
Set Information:
| Total Cards | Print Run(s) | Odds |
| --- | --- | --- |
| 15 | 5000 | S1 Magazine Packs |
1997 Donruss Rocket Launchers
Checklist:
| Card # | Player(s) | Card # | Player(s) |
| --- | --- | --- | --- |
| 1 | Frank Thomas | 9 | Matt Williams |
| 2 | Albert Belle | 10 | Gary Sheffield |
| 3 | Chipper Jones | 11 | Barry Bonds |
| 4 | Mike Piazza | 12 | Manny Ramirez |
| 5 | Mo Vaughn | 13 | Henry Rodriguez |
| 6 | Juan Gonzalez | 14 | Jason Giambi |
| 7 | Fred McGriff | 15 | Cal Ripken Jr. |
| 8 | Jeff Bagwell | | |
1997 Donruss Rocket Launchers