Have you visited our store? Click here.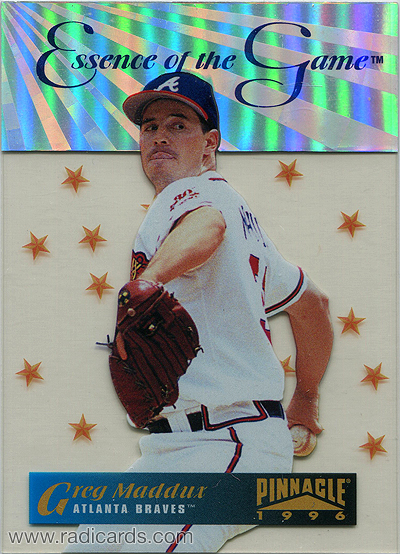 1996 Pinnacle Baseball was an incredible product. I have a very clear memory (no pun intended) of my first encounter with my first card in the 1996 Pinnacle Essence of the Game set. These cards weren't my first experience enjoying the rarely used but always appreciated see-through plastic technology. The first was 1994 Studio Series Stars, which is another set I thoroughly enjoy. It's one of my favorite sets that features clear plastic. This set is highly underrated, which probably has something to do with its availability. I really can't specifically say why though with any degree of certainty. What I do know is the design kicks ass! The dark orange stars, the holo-foil header with beams, the font featuring the set title, the player photos, and of course, the clear plastic all make each of these cards amazing pieces of art. Even today, in my opinion, this set vastly out performs a lot of modern releases in terms of aesthetics. To me, the visual experience is a good chunk of what makes collecting interesting. Design is of significant importance when it comes to card appreciation.
When I got my first card from this set back in 1996, I was absolutely floored by its appearance. Even today, when I look at that same card, I'm still in awe over its stunning good looks. Some things never die. This set is one of those things. Somewhat forgotten, sure, but never dead. These were inserted into hobby packs at a rate of 1:23. This 18-card set features superstar talent exclusively.
Can you remember some hot shot talent that was popular in 1996?
To see what's currently on eBay from 1996 Pinnacle Essence of the Game, click here.
---
Set Information:
1996 Pinnacle Essence of the Game
Checklist:
| Card # | Player(s) | Card # | Player(s) |
| --- | --- | --- | --- |
| 1 | Cal Ripken Jr. | 10 | Mike Piazza |
| 2 | Greg Maddux | 11 | Jeff Bagwell |
| 3 | Frank Thomas | 12 | Mo Vaughn |
| 4 | Matt Williams | 13 | Albert Belle |
| 5 | Chipper Jones | 14 | Tim Salmon |
| 6 | Reggie Sanders | 15 | Don Mattingly |
| 7 | Ken Griffey Jr. | 16 | Will Clark |
| 8 | Kirby Puckett | 17 | Eddie Murray |
| 9 | Hideo Nomo | 18 | Barry Bonds |
1996 Pinnacle Essence of the Game