Have you visited our store? Click here.
I've been putting off buying this card for years, I finally decided to invest and it only cost me a whole $0.99! It arrived today and I was immediately surprised by the sheer weight of this card. It's much heavier and slightly larger than your standard card. We're talking about the 1994 Stadium Club Members Only Finest Bronze.
The result: a colorful, aesthetically pleasing, thick, heavy, completely different product from anything released in 1994. This set belongs in a genre of its own. We'll call that genre innovation.
1994 was a good year for the hobby and it seemed like a time when inserts were starting to really take off. Technology was getting better with time (as it always does) and this release depicts a valiant effort by Topps to create something completely different. I like this card very much if only for the fact that it sets itself apart from all other Topps products released in 1994. The only con I see with this product is its size. Due to its alternative size, it only seems to fit in a semi-rigid card sleeve. Although it doesn't fit in a standard size penny sleeve, you might try using vintage penny sleeves or GU penny sleeves, those which fit thicker and bigger cards. All in all, this is a quality product. If you get a chance to score one of these guys at a relatively decent price, pick it up!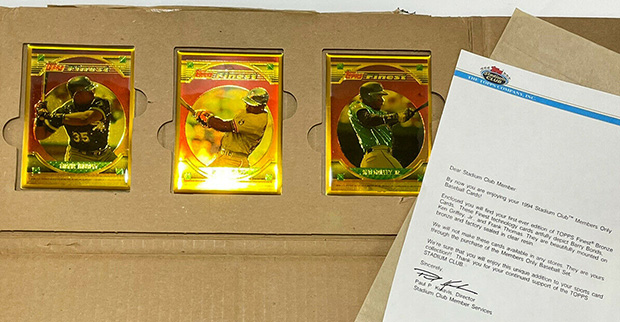 This 3-card set was available exclusively to members who purchased the Members Only baseball set.
To see what's currently on eBay from 1994 Stadium Club Members Only Finest Bronze, click here.
---
Checklist:
| Card # | Player(s) |
| --- | --- |
| 1 | Barry Bonds |
| 2 | Ken Griffey Jr. |
| 3 | Frank Thomas |
1994 Stadium Club Members Only Finest Bronze