Have you visited our store? Click here.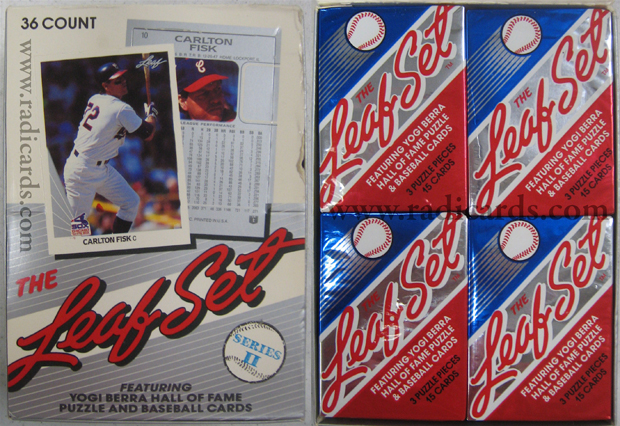 I've always held a high level of respect for this product regardless of series. For this entry, we're talking about 1990 Leaf Series 2
. In 1990, Donruss introduced this set as its premium, top tier product as an answer to the success of 1989 Upper Deck. 1989 Upper Deck basically forced everyone to up their game and increase their perceived quality. The print run for 1990 Leaf was significantly less than that of its flagship release of that year. Additionally, 1990 Leaf was printed on white card stock, with silver print and full color photo's and features some of the premier rookies of the day. All of this made Leaf the highest quality product on the market in 1990. Not even Upper Deck could compare with Leaf in 1990. Key rookies in 1990 Leaf series 2 included: Larry Walker, David Justice, and Frank Thomas. These three guys drove the sales for this product in 1990 and believe it or not, they still do today! Prices for these rookies have fluctuated significantly over the past 20 years but one thing remains the same, they are still the most valuable rookies in 1990 Leaf series 2.
I came across a box of series 2 for an extremely competitive price and figured that it would be fun to bust and write about. As you read my analysis, you will be provided with the following: set building percentage, number of doubles, rookies, stars and even errors believe it or not. Yes, even 1990 Leaf had error's. We've got a lot to discuss so let's get started!
Breakdown: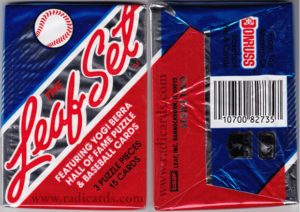 A box of 1990 Leaf contains 36 packs, each containing 15 cards and 3 puzzle pieces. The math comes to 540 cards and 108 puzzle pieces. The set consists of 264 cards. The breakdown is as follows:
235/264 cards: % of set complete = 89.02%

Doubles: 291

One complete Yogi Berra puzzle
That's a lot of doubles! Some packs seemed identical to each other. I would pull the same run of cards as the previous pack. I pulled Larry Walker in two packs back to back, same with Frank Thomas. I thought this was odd. I also think that it's interesting that I pulled (235+291) = 526 cards out of this box when I was supposed to pull 540. I kept pretty good track of every card so as to write a valid analysis. I'm not sure how to account for the missing 14 cards, that's almost an entire pack! Oh well, 526 cards was all that was in my box so we'll just leave it at that. As I busted open pack after pack, I noticed that there aren't a whole lot of superstars in series 2. With the exception of Nolan Ryan, Randy Johnson and Dave Winfield, there really isn't a lot going on in this set. We'll talk about the rookies here in a bit but I just thought that it was odd that the bulk of superstars ended up in series 1. To make up for this, series 2 provides ample opportunities to pull multiples of the key rookies.
Rookies:
If you haven't already met, everyone, meet Larry, Frank and Dave. These guys run the show at 1990 Leaf series 2. They are the best of the best in the entire set. Let's look at the stats on these guys:
Larry Walker: 5x All-Star; 7x Gold Glove; 3x Silver Slugger; .313 Career AVG; 2160 Hits; 383 HR's; 1311 RBI's.
Frank Thomas: 2x MVP ('93-'94); 5x All-Star; 4x Silver Slugger; .301 Career AVG; 2468 Hits; 521 HR's; 1704 RBI's.
David Justice: 1990 ROY; 3x All-Star, 2x Silver Slugger; 1017 RBI's.
Frank Thomas, hands down is the most accomplished rookie in the set. In it's prime, the Thomas booked at well over $100, the Walker and Justice, well over $20. Today, Thomas can be had on the secondary market for around $10 while Walker and Justice can be found for around $1-5 depending on who's selling. No matter the price, these guys are prime choices for any collector and every collector should at least have one copy of each in their collection. Just a heads up on odds of pulling these guys in a single box of 1990 Leaf series 2. In my box, I pulled 2x Thomas, 2x Justice and 3x Walker.

Who remembers these guys? I know that that isn't Avery's official rookie card but it's his best 1990 card and technically, he didn't play big leagues until 1990 anyways so I figured he'd fit well among the rest. I personally think he was a rad pitcher in his day. After only one year in the game, he was already being considered for a Cy Young Award, although he didn't end up getting one, he made up for it be becoming an All-Star in '93. I can remember the Indians acquiring Baerga on trade for Joe Carter and Sandy Alomar. Carter and Alomar went to the San Diego Padres as a result. With 3 All-Stars and 2 Silver Sluggers, Baerga had some respectable talent. Offerman wasn't much of a hitter but for some reason, he made the All-Star team in both '95 and '99. He has since dropped off. Kevin Maas, what's to say about this guy really, other than he was a flop. He was considered for Rookie of the Year status when he hit the field in 1990 but unfortunately, that, nor his MLB career panned out. Maas played for 5 seasons before calling it quits.
Stars:
These are the only two stars listed in the Beckett for all of 1990 Leaf series 2. Everyone else fits in the ambiguous and subjective categories of 'common,' 'semi-star' or 'unlisted star. As far as who is assigned to what category?, well, you'll have to figure that one out on your own. As for these two guys, these were the best pitchers in 1990, maybe in all of baseball. Let's consider two things, Randy Johnson and Nolan Ryan. I use the word 'thing' because these two guys performed more like machines than humans. Let's have a moment of clarity and grace ourselves with a look at their stats:
Randy Johnson: 10x All-Star; 5x Cy Young; 4875 Strike Outs; 4135 Innings Pitched; 3.29 ERA.
Nolan Ryan: 8x All-Star; 5714 Strike Outs (highest in baseball); 5386 Innings Pitched; 3.19 ERA; 2795 BB (highest in baseball); Pitched in 4 different decades over the span of 27 years. Hall of Fame induction in 1999 with (491/497 ballots). Considered by many to be the best pitcher in baseball.
These guys carry weight not only on the field but off as well. VH1's Where Are They Now hasn't a thing on these guys. Randy Johnson is business partners with Alice Cooper at a restaurant in Phoenix, AZ called 'Alice Cooper'stown. There you can find an assortment of classically named menu items such as the Ryne Sanburger, the Ty Cobb Salad, and a giant hot dog named after Randy himself called the Big Unit, which is essentially a 2 foot hot dog with the works.
Notable Underdogs:
Whenever I come across an Ozzie Canseco card, it's a bit of a trip. He is the monozygotic (identical) twin brother of Bash Brother, Jose Canseco. They look so similar that I swear, they could easily get away with date swapping, she'll never know. Drafted as a pitcher by the New York Yankees in the 1983 MLB amateur Draft (2nd round), Ozzie never actually came up until 1989 when he showed up in the '89 Upper Deck final series as an Outfielder for the Oakland Athletics. Ozzie spent most of his career floating around the minor league system. For 5 years, he showed up in baseball cards, although he only spent 3 years in the MLB and never hit a single home run and cumulatively grossed a total of $240,000. Over the years, Ozzie has had a few unfortunate run-ins with the law. Ozzie was charged with aggravated battery for a bar fight with tourist in 2001. In 2003, Ozzie served 4 months in prison for possessing an illegal anabolic steroid (Nandrolone) and driving with a suspended license. On May 1, 2003, the police noticed the tinted windows on his Lincoln Navigator and pulled him over, at which point they found the Nandrolone and a syringe. Additionally, Ozzie was seen on VH1's smash hit television super series, the Surreal Life posing as his brother, Jose. It wasn't known until later in the show when he announced that he wasn't Jose but his twin brother. Ozzie has also been seen at sportscard shows and book signings filling in for his brother. When you look at it from a comedy stand point, this guy was more of an entertainer than a baseball celebrity. Who knows, maybe I'll start collecting Ozzie Canseco cards 8)
Next, we have Scott Radinsky. This guy is important to me and we'll talk about why. Scott was drafted in the 3rd round amateur draft in 1986 by the Chicago White Sox. Scott spent 11 years in the MLB as a left-handed relief pitcher. His MLB career spanned from 1990-1993 and 1995-2001. His stats are as follows: 358 Strike Outs; 481 Innings Pitched; 3.44 ERA and apparently, Scott only gave up 33 HR's throughout his career. Not bad for one of the better Jewish pitchers in the game.
I grew up listening to Punk Rock and of the many bands I listened to fondly, I used to rock Ten Foot Pole and Pulley. It wasn't until 2003 that I discovered that Scott was the former lead singer of Ten Foot Pole and the current lead singer for Pulley. I love these bands and it's because of this connection that I casually collect Scott's cards.
Errors: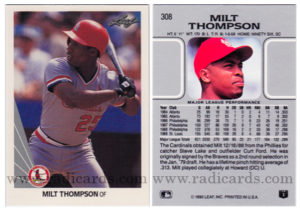 I never really noticed this error until I had a closer look at the 15th edition of the Beckett Almanac. UER stands for Uncorrected Error. What this means is that there is only one version of this card available and this is it. There aren't any corrected versions available, the factory printed the mistake and left it as is. So hence, every single Milt Thompson card from 1990 Leaf features Ray Lankford on the back. There are a few other UER's in the 1990 Leaf set but this one is the most significant due to the picture swap. The other UER's have minor spelling imperfections and that's about it. This card features Milt Thompson on the front and Ray Lankford on the back. Kinda fun!
As we can see so far, 1990 Leaf series 2 is filled with fun gems. With little surprised here and there with respect to big time rookies, hall of fame pitchers, UER's and exclusive background checks on some of MLB's more colorful players, this product provides a decent snapshot of what the hobby was like 20 years ago. I can only remember the SRP on this product being way out of my budget. I considered 1990 Leaf to be the pinnacle of collecting quality. I bought my first pack back in 1992 at a hobby shop in Florida and I didn't pull a thing. From what I remember, I paid something like 3.99 for the pack. At that time, the Thomas RC was worth like $90. He was my guy and I was yet to own his famous Leaf RC. It was only a matter of time before I finally secured my own copy of that card. Believe it or not, it wasn't until a 11 years later that I finally got one off eBay. As I ripped through this box the other day, I pulled two of them. That alone justified my purchase and put a smile on my face. 🙂
Donruss Puzzle: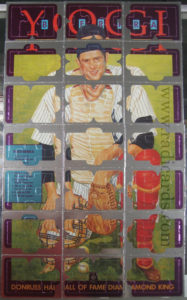 Donruss Puzzles started in 1982 and ended in 1992. The 1990 Leaf puzzle features Yogi Berra. I pulled 36 puzzle cards (3 pieces each) out of this box and of that mess, I was able to compete the full puzzle with 15 extra cards to spare. I constructed this puzzle in its most primitive form but as you can see, it adds significant eye appeal. Usually I see these puzzle constructed with the actual puzzle pieces as intended but I just thought that this would make for a more interesting picture. The puzzle consists of 21 cards. With 36 total cards pulled, the odds of pulling enough cards in one box to complete the puzzle are as follows: 21/36 = 58.3%. Those aren't bad odds. So here you have it, the completed Yogi Berra puzzle for your enjoyment!
Conclusion:
All in all, 1990 Leaf series 2 was a decent break. The odds of pulling a complete run are just over 89% which isn't terrible but given the extensive amount of doubles, triples and sometimes quadruples of cards, the odds could have been better. I have no problem pulling 2 or 3 Thomas RC's but when you pull 5 Mark Eichhorn's in one box, you start to question the quality of Donruss's packaging strategies for that year. It was also interesting to see that some packs were packaged with the identical run of the same players. I pulled Larry Walker in the first two packs of the box, both packs contents were almost identical in player's and cards organized. That was weird but when I'm pulling multiples of Walker's RC, I'm not complaining.
With a roster of decent rookies, UER's, high set completion percentage and the Yogi Berra puzzle, 1990 Leaf Series 2
is worth the money. A box will set you back between $35-50. If you can find 'em for cheaper, by all means, pick 'em up!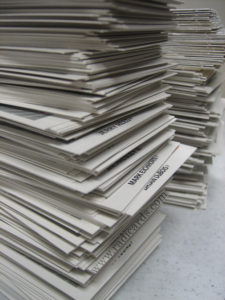 To see what's currently on eBay from 1990 Leaf, click here.